The perfect outfit for maintaining social distancing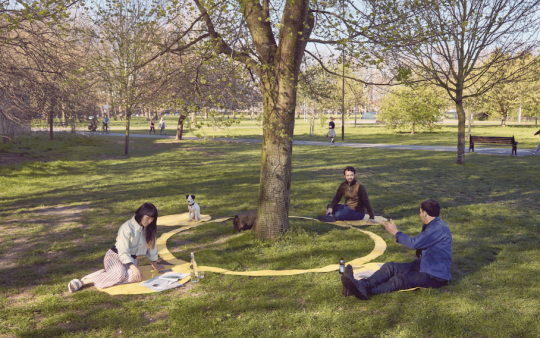 A picture of chalk circles drawn in a park in San Francisco for Memorial Day weekend went right around the world. The Memorial Day holiday weekend in May is an occasion when Americans traditionally up sticks and meet up with friends and family outdoors in parks. Without further ado, the lawn at Dolores Park was divided up into perfect circles to provide the necessary social distancing and reduce the risk of coronavirus infections. Each circle was a safe distance apart and offered enough place for several people. The chalk circles worked like a dream and the idea was picked up all over the world. Many towns adopted the concept themselves and now use chalk lines to control crowd density in public green areasHier Bild Kreise Mission Dolores.jpg einügen
This more light-hearted approach to regulations governing social distancing was well received. The success and popularity of the idea vouch for the fact that protected public space triggers a positive reaction among groups of people who are out and about, while still protecting them from the risks of coronavirus. The prescribed social-distancing circle makes it clear just how much space is required to ensure personal safety without having to resort to sanctions or antagonising people with an overzealous approach.
Social-distancing ideas are currently very trendy
The fact that people long for such solutions in times of a pandemic is demonstrated by the many draft concepts and product ideas that the topic has inspired.
Multiply, a collective of creatives passionate about contemporary urban interaction and design, has developed a draft concept for a very special social-distancing outfit. The petticoat dress (link https://www.multiply.design/works/the-petticoat-dress/) is the perfect outfit for maintaining social distancing in public thanks to its two-metre diameter. Certainly, an excellent idea when it comes to distancing, but it remains doubtful, however, whether it will manage to establish itself as a stylish new look. The question also remains as to what a male equivalent of the petticoat could look like.
Reinterpreting the picnic blanket
Paul Cocksedge's design studio is specialised in designing highly imaginative projects which focus on simplicity in order to create people-centred designs. The studio has taken a more down-to-earth approach to the subject of distancing. The idea is a revamped picnic blanket. A large ring in combination with four round seating areas that ensure safe distancing.
Paul Cocksedge offers open-source sewing instructions, including the exact measurements, as a download. We recommended making the blanket out of a material such as felt. The ring requires approximately four sqm of fabric while the seat circles require around five sqm.
Image: Paul Cocksedge