Cardboard fans, enhancing the atmosphere in stadiums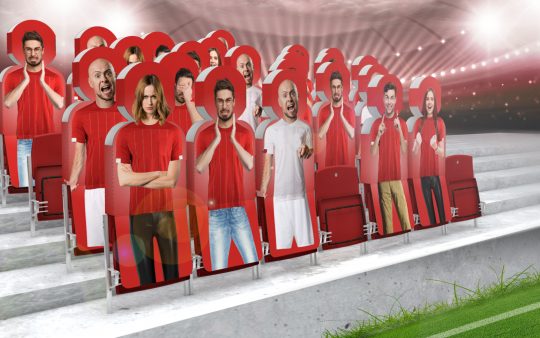 It is not just the atmosphere at football matches that is dampened by empty seats. Help is on the way, however, with life-size figures that could make at least make arenas look full in the future.
Sports officials and government representatives the world over are discussing when it will be possible to allow fans to return to major sporting events. Rules and the number of spectators admitted vary widely, depending on the respective hygiene and distancing regulations in force. Empty tiers of seating have both an acoustic and visual impact on the atmosphere.
The British packaging manufacturer DS Smith (link https://www.dssmith.com), with head office in London and business premises in 37 countries, would like to change this and make stadiums and sports arenas at least look full in the future. Cardboard figures printed in different designs and made of sustainable corrugated cardboard are intended to improve the atmosphere.
To make the cardboard fans look authentic and provide more emotion, they are available in different poses: some cheering with upraised arms, others with an outstretched arm making a victory sign, others concerned, annoyed or totally desperate. The prints are available in different clothing in solid colours or stripes to reflect the most common team colours. The cardboard characters can simply be popped over seats to create a ready and waiting crowd of spectators.
Equipped with a weatherproof coating
You can also buy customisable accessories such as foam hands or baseball bats in team colours to make the figures look more authentic. This additional customisation is intended to help players on the pitch feel that they are being fired on by their fans rather than playing alone in the stadium.
The sustainable cardboard cut-outs are designed for use in indoor and roofed arenas. A waterproof version is also available for outdoors. The corrugated cardboard is then provided with a wax-free coating which is 100 percent recyclable. It was originally developed for sustainable packaging and shares the same qualities as wax-coated cardboard packaging. As a result, the cardboard fans are totally recyclable and can simply be thrown out with the wastepaper once their job at the stadium is finished.
It was the North America Packaging and Paper Division of DS Smith that first had the idea of creating silent fans. A recently opened packaging plant in Indiana and another factory in Columbia are able to produce more than 50,000 cut-out figures in an 8-hour shift. The company clearly has major plans with its new product, directing its marketing not only at university and high school teams or amateur clubs, but also at the American professional basketball, baseball and football leagues.
Text: Caroline Zöller
Image: DS Smith