Smart shirt against the consequences of a stroke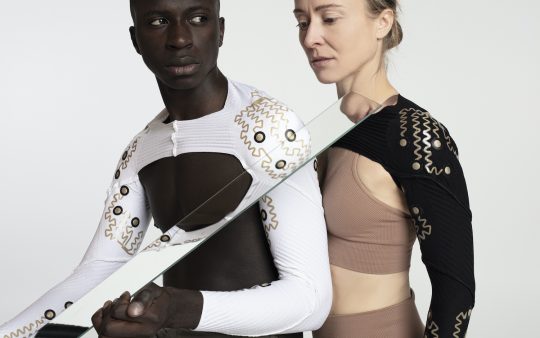 After a stroke, nothing is the same as it once was. Depending on the severity of the attack, the time of detection, treatment and the age of the person affected, the consequences can vary greatly. In two thirds of all cases, physical damage is left behind. Frequent consequences include speech and vision disorders and partial paralysis of the arms or legs. This is exactly where Jessica Smarsch's project comes in.
Connextyle is a rehabilitation garment for measuring muscle activity and movement. The intelligent shirt was developed explicitly for people who have suffered a stroke – especially those who have lost full use of their upper body.
Who is behind it?
The innovative shirt is the result of the collaboration of various partners from the fields of art, design, technology and science and within the framework of the joint research project Re-Frame. Jessica Smarsch, who was responsible for the project, worked closely with the Fraunhofer Institute as technical contact, the POL studio for developing the sample designs, the Knitwear Lab in the Netherlands for the matching yarns and the company ItoM-Medical as medical partner.
The aim was to integrate a technical solution into an ergonomic clothing design that complements the structure and movement of the body while still looking good. Quite high demands for a textile.
What can the shirt do?
After a stroke, patients have to exercise daily to create new nerve pathways in the brain that reactivate the muscles. The feedback of body data generated during training with the shirt helps the therapeutic staff to better adapt the rehabilitation measures to the person to be treated. The Connextyle shirt is connected via a sensor to an app that provides visual feedback and accurate body data – for example, on muscle activity. The sensory feedback from the body stimulates the brain and helps to form new nerve tracts. The app also generates reports on the improvement of body functions. For those affected, this is a high motivation factor to stay tuned.
The inside of the sleeves of Connextyle uses textile-based sensors from the Fraunhofer Institute. The design is specifically geared to the transmission of muscle activity. The two-layer fabric consists of sleeves processed with sensors and a cotton shirt. A small module clip processes the data and transmits it via Bluetooth to the app in the cell phone.
The clip design is practical here – the module can be easily attached and removed. The sleeves can be washed without any problems. The use of the transparent yarns is intentional. The underlying TexPCB technology should be visible, because here high-tech is deliberately combined with aesthetics and becomes a style-defining design element.
Portable technologies with smart functions are constantly evolving. An empathetic approach to technology is becoming increasingly important, especially in the health care sector. This means that a medical shirt such as the one from Connextyle can improve the quality of life of many people.
Pictures Connextyle