This time we have a duo: colours of the year 2021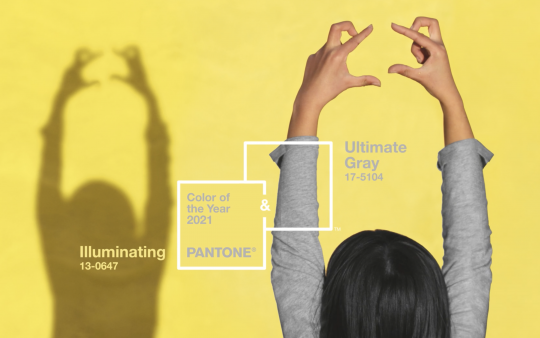 The idea of nominating a colour of the year was initially triggered by a question put by a journalist back in 1999. Since then, Pantone has announced a trend colour for the coming year every January.
On the threshold of the new millennium a journalist asked the Pantone Color Institute which colour could shape the future. At the time, the experts chose a pale blue called 15-4020 Cerulean. Ever since, the company has selected a colour for the upcoming year, taking into account different social aspects. Their choice has a major impact on creative decisions made by brands and marketeers worldwide.
"The Pantone colour of the year reflects what is happening in our global culture, expresses what people are looking for and, hopefully, also provides them with an answer," explains Laurie Pressman, vice-president of the Pantone Color Institute. "Many designers and brands use the language of colour to put across their messages because society still recognises colour as an important means of communication and method of expressing thoughts and ideas."
Grey and yellow for 2021
The two colours that have been selected for this year are PANTONE 17-5104 Ultimate Grey and PANTONE 13-0647 Illuminating, a radiant yellow. Two colours that could not be more different from one another, yet together they become an ambitious mix, combining a mood of reflection with the optimistic promise of a sunny day.
Leatrice Eiseman, executive director of the Pantone Institute claims, "By choosing two independent colours, we are emphasising how different elements come together to express feelings of strength and hope. The intention is to combine both consistency and something uplifting, while at the same time communicating the idea that it is about more than just a colour or an individual person. Connecting Ultimate Gray with the bright yellow of Illuminating underscores a powerful positive message." Practical and rock-solid, yet at the same time warming and optimistic, this colour combination gives us both resilience and hope. "We should feel encouraged and uplifted, something essential for the human spirit."
The combination of yellow and grey creates a visual signal. Pairing the bright friendly yellow with a quiet, rather unobtrusive grey, creates a vitality with a solid reliable base in visual communication.
Other colour trends
The creatives at Shutterstock image agency select their own colours of the year, although they take a somewhat different approach. Shutterstock determines the most popular colour trends from the latest image searches and downloads. 2021 is characterised by a rich natural palette expressing the desire to get outdoors and escape our everyday routine. Natural and muted shades dominate. The image agency has selected three colours for this year: champagne, gold and green.
Global differences
Shutterstock also names top colours for 20 different countries all around the globe, reflecting cultural differences and respective circumstances. The agency selected Dark Magenta with colour code 8b008b for Germany.
One thing does seem certain, however, with the large range of different providers on offer, 2021 at least promises to be a colourful year.
Image: Pantone Color Institute