Qube high gloss – Round meets square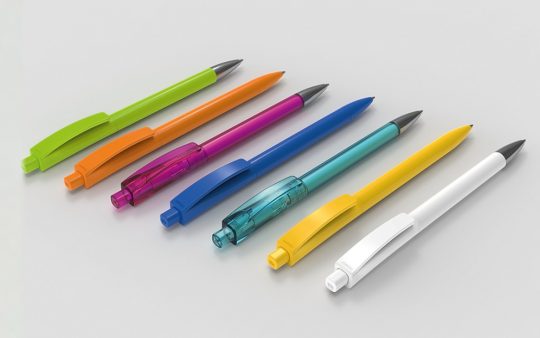 Modern retractable ballpoint pen, with special geometry. The long, cylindrical barrel leads into a cuboid-shaped upper part with a wide clip. The model is available in both high-gloss and transparent versions. The optional shiny metal tip gives the expressive writing instrument a special quality.
In addition to the plastic components, the elegant metal tip also bears the 100% Made in Germany label. In addition to the standard print types, this trendy advertising medium can also be creatively personalised with an extended XL barrel print or a print on one of the 4 additional print areas on the upper part. The Qube is equipped with a document-proof Silktech L refill and 3,000 m writing length (optionally 5,000 m). The PMS service enables the implementation of individual special colours from as little as 5,000 pieces. Production is climate-neutral and uses 100% green electricity.
www.klio.com