Cloud Pens: Writing instruments for high conversion rates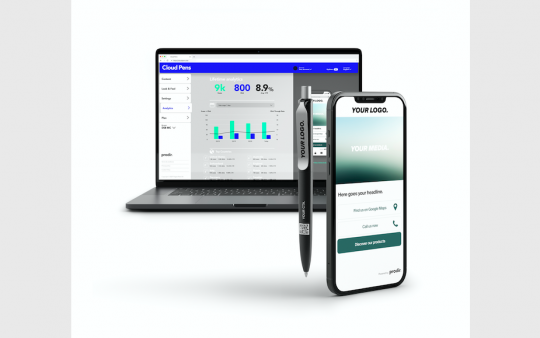 The Swiss manufacturer Prodir announces the release of the new Cloud Pens, the app-based digital solution that allows companies to track the effectiveness of their haptic advertising.
Haptic meets digital: the Cloud Pens were specially developed for lead generation and customer loyalty. They do not only open-up the digital dimension to haptic advertising, but also enable marketers to measure and track the success of haptic advertising.
Each cloud-based writing instrument is printed with a custom designed QR Code that is linked to a personalized campaign landing page. QR coding is a simple, proven and widely used technology that does not require chip technology and is therefore much more sustainable compared to other solutions such as NFC. Video-monitored quality controls ensure that each of the fine precision prints work reliably for a long time.
Companies purchasing Cloud Pens gain access to a customisable landing page that can be updated at any time with numerous functions – from a digital business card to the promotion of special offers and services.
The Cloud Pens Web App provides robust analytics to help marketers understand and optimize campaign performance, and it's easily integrable with Facebook, Google and LinkedIn tracking pixel solutions to implement retargeting campaigns. All relevant data is accessible via a streamlined, easy to use web app.
For companies wanting to implement truly integrated multi-channel marketing campaigns, Cloud Pens takes haptic advertising to a whole new level. Cloud Pens services are available for all Prodir models. www.prodir.com