Release of a new assortment brand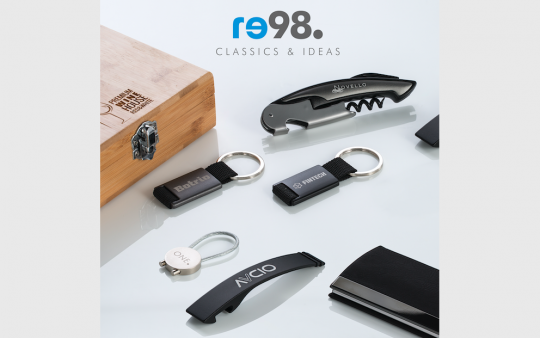 In addition to the three assortment brands RETUMBLER – Best of Drinkware, REEVES – Smart Electronics and RETIME – Cool watch Concepts, the Cologne multi-specialist REFLECTS® is releasing the most recently planned brand RE98® – Classics & Ideas.
With its RE98® brand, the Cologne-based company is returning to its roots in the promotional products market. The brand stands for high-class promotional products that emphasise the origins of REFLECTS® and LM ACCESSOIRES. RE 98® – Classics & Ideas stages a range of well-selected promotional items with a long life cycle, timeless design, high quality, aesthetics, high benefit for the consumer and high-class materials. Matching "wow" products and promotional items of the current zeitgeist complete the range. In the long term, RE98® will combine classics, promotional icons, must-have articles and trend articles.
Classics, promotional icons, must-have articles Classics and popular products form the base of the range, and retailers will find REFLECTS-typical metal articles as well as useful and budget-friendly giveaways under the umbrella of the RE98® brand. The RE98® product range includes promotional items from the following assortments: key rings, games and leisure, kitchen utensils, home and living, office and business, and travel accessories. www.reflects.com