Interall Group becomes part of Clipper B.V.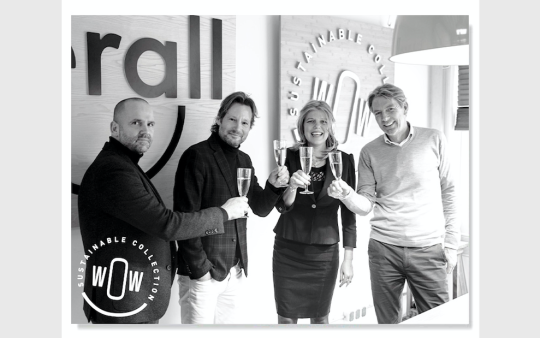 The Interall Group (Amsterdam/NL) has sold its company including the entire WoW Sustainable Collection, that's known for its sustainability credentials, to Clipper Gifts (Helmond/NL).
Managing director Maurice G. Stoevenbeld acquired Interall 17 years ago together with his partner Karin. Back then, the company predominantly supplied the promotional product industry with the well-known Wuppies. "We worked hard to expand the range to include all kinds of products for the European promotional product industry, including a wide assortment of mobile phone accessories, bicycle accessories and fun tattoos. In the last 4 years we've focussed entirely on sustainable, practical products with a green story. Products which are manufactured from waste, recycled material, biobased and natural materials. After just 4 years our product portfolio was 98 % sustainable – with a story that's not only original but also authentic. That attracted attention in our market, above all among the big European players in the sector who weren't yet sure which direction to take in terms of sustainability", Stoevenbeld explains. "We then got in contact with the Plato Group and it 'clicked' right away. Their subsidiary Clipper, which exclusively supplies promotional product distributors (just like the Interall Group), also wanted to become more sustainable and of course in the right way. Our mission was (and is) to make the entire promotional product industry in Europe sustainable 'in the right and proper way'. And now that Clipper has taken over our company, we can achieve this goal even faster. They have the necessary people, resources and network", says Stoevenbeld.
The Interall Group will remain as a brand on the market and will continue to serve its customers. Clipper Gifts will also offer the WoW Sustainable Products range to its distribution partners (from March 2022 onwards). www.interallgroup.com • www.clippergifts.com
+++
Photo: A glass to a new, sustainable future at the Interall Group headquarters (from left): Ruben van 't Loo (Clipper), Maurice Stoevenbeld, Karin Stoevenbeld-Kreber (Interall Group), Ton Lobker (Plato Group).