Online product catalogue 2022 features a wider assortment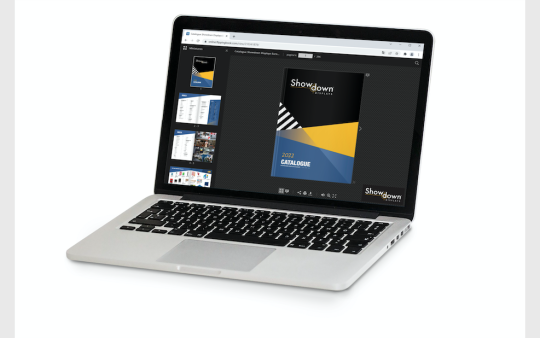 Showdown Displays Europe has introduced its new online product catalogue for 2022. The product range in the extensive digital publication features more than 25 new different products. To simplify the search process for resellers, the product categorisation is now divided up according to market segments. As usual, the new catalogue gives you a full overview of showroom products with product images, selling points and appropriate images of the products being used in typical situations. The selection of new products includes, among other things, steel tents, beer garden tables, flex walls, door wallpaper, indoor banners, black letter boards, self-produced zipper walls, window flags and new POS poster displays. The product catalogue 2022 is the 3rd edition released by Showdown Displays Europe after the merger of Jansen Display and Promic Display Systems.
Michal Havel, Director of Product Management, states "In the new assortment of products we have tried to offer a combination of new products and products that are already on the market, which our resellers want to buy from us as a one-stop shop. Our goal is to satisfy our customers every year by having a new selection for any market sector." Showdown Displays Europe develops and improves its product range on an ongoing basis. The company is concentrating on new products produced in-house at their facilities in Přestanov, Czech Republic.
Barbara van der Sluizen, Marketing & Communication Specialist, remarks "We have received feedback from our distributor clients saying that they would like to be able to see at a glance which products are interesting for their particular market and that they could not always find what they were looking for. This is understandable with such a large catalogue, which features more than 450 products. This is the reason why we have categorised our catalogue according to markets." A clear overview of the categories is presented in the catalogue; they are interesting for the "promotions and events", "point-of-sale", "HoReCa" (hotel, restaurant, café), or the office sectors for example.
Showdown Displays has added additional interactive functions to make the online catalogue even more user-friendly. Users can just click through the web shop and have a look at product videos. More information is available at: www.showdowndisplays.eu