ASS Altenburger: Renaming and company split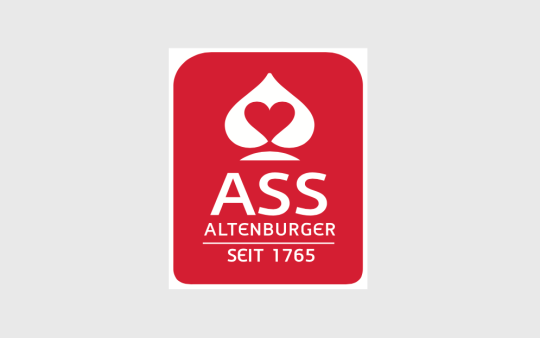 The playing card market has developed dynamically in recent years and the significance of brands and their positioning in the market is steadily increasing. For almost 20 years, Spielkartenfabrik Altenburg GmbH has belonged to the Cartamundi Group, which has now decided to adapt its business model to reflect this market dynamic and to separate the existing business areas into independently operating companies. The purpose of this step is to allow own local as well as global brands to be developed and positioned more strongly, thus enabling greater growth.
The commercial and promotional product business under the ASS Altenburger brand has been renamed to Cartamundi Deutschland GmbH.
Within the commercial and promotional product business, own playing card products are developed under the ASS Altenburger brand and offered through bricks-and-mortar and online sales channels in Germany and Austria. Customised adaptations are offered for industrial and advertising customers, but the programme also includes completely new product developments.
The commercial and promotional product business of Spielkartenfabrik Altenburg has now been operated by Cartamundi Deutschland GmbH since the beginning of this year. Its goal is to expand the market position in the area of playing cards and board games in an even more focussed way in future, aiming to offer even more innovative and high-quality products under the ASS Altenburger brand. Further own brands of the Cartamundi Group will also be built up over the long term. These include Bicycle®, the USA's leading playing card brand since 1885, which enjoys a superb reputation especially among magicians and card specialists.
Another change of company name to ASS Altenburger Germany GmbH is planned in the second half of 2022, in order to firmly anchor the strong brand in the company's name on a long-term basis.
The area of publishing/production will remain part of Spielkartenfabrik Altenburg GmbH. For publishers and game developers, the company offers the manufacturing of products and complete games according to the highest quality standards. Advice on cost-optimised manufacturing, the use of sustainable materials as well as various logistic services is an integral part of the overall package.
The manufacturing division will continue to be operated by Spielkartenfabrik Altenburg GmbH in future, which will be renamed to Cartamundi Germany GmbH in the course of 2022.
With the separation of the business areas, the Cartamundi Group is pursuing the goal of further specialising the manufacturing locations worldwide and continuously enhancing the associated processes and systems. This wide and reliable range of offerings will of course continue to be used by Cartamundi Deutschland GmbH for the majority of the ASS Altenburger card and game products.
www.spielkarten.com • www.assaltenburger.de • www.cartamundi.de