RASTAL mourns the loss of Raymond Sahm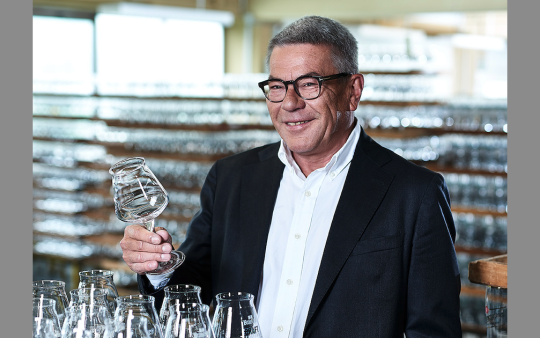 RASTAL GmbH & Co. KG, a renowned manufacturer and innovator in the glass design and finishing sector on behalf of the beverages industry, is shaken by the unexpected death of Raymond Sahm. The company's proprietor and longstanding executive partner passed away suddenly on Sunday, 12 November 2023, at the age of 66.
Word comes from the company that the entire RASTAL team is profoundly upset by the news of Raymond Sahm's passing: "Our thoughts are with his family at this difficult time."
From the time he joined the executive management in 1992, Raymond Sahm lived and breathed his passion for the world of glasses and turned RASTAL into a globally leading company in the finishing of drinking glasses in the beverages industry. As the originator of the "exclusive glass" concept, he oversaw the creation of RASTAL drinking glasses designs that are shaping the beverage industry's global brands to this day.
Raymond Sahm successfully built up new areas of business and forged innovative partnerships. As a visionary thought leader, he had a sure eye for emerging industry trends and, as a "doer" during project realisation, always dealt fairly and loyally, even in challenging times. In doing so, Raymond Sahm always knew how to enthuse and unite people. His cosmopolitan nature influenced not only the company, but also the people who worked with him.
As the company further announces, "despite the painful loss of Raymond Sahm, the business activities of RASTAL GmbH & Co. KG will be continued without a pause. His legacy will be honoured and perpetuated by the entire workforce."
Maximilian Sahm, son of Raymond Sahm, has already been closely involved in the corporate management for many years and will continue to tread the paths opened up by his father in the fourth generation. "We are determined to uphold my father's legacy and continue his life's work. Our aim is to continue to build upon his innovative spirit and have it influence every aspect of what we do. We will also preserve his vision and ensure that his influence on the beverages industry lives on," reports Maximilian Sahm.