Are upcycling and slow fashion the future of the textile industry?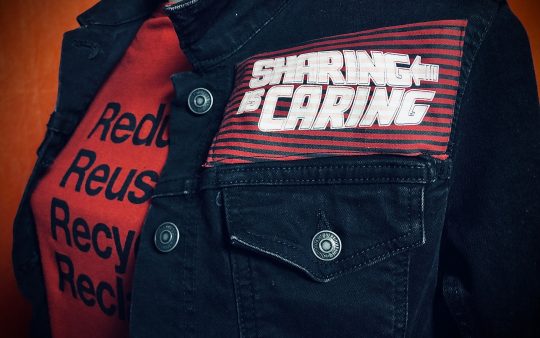 In Germany over a million tons of second-hand clothes accrue every year. This is primarily due to shoppers' consumption behaviour: the permanent desire for the latest design, favourable prices and a wide choice has given rise to a real "dump-and-buy-new" attitude. The fast-fashion business model satisfies precisely these shoppers' needs and delivers apparel fast, at low costs and with frequently changing choice. However, this business model is considered obsolete. The textile industry is charting its course for sustainability instead. Slow fashion and upcycling produce sustainable and fair solutions.
The reincarnation of old clothing
At PromoTex Expo 2020 the pop-up sewing factory at the Textile Campus cooperated with Hehlerei, the "alliance for textile crimes", to develop a fashion collection based on second-hand clothes with the help of exhibitors and visitors of the trade show. This is how a complete upcycling collection was created during trade fair operations. While the pop-up sewing factory focuses on the repair and stylish upgrading of used or worn clothing, the operations of Hehlerei, says Manuel Krings, one of its three founders, are based on the "concept of the reincarnation and/or rethinking of old clothing and textiles."
"Hehlerei" is a B2B fashion lab and streetwear label from Cologne-Ehrenfeld. They have manufactured upcycled one-off pieces from worn and discarded garments since 2018. "Re-thinking old garments was the initial spark, so to speak, for Hehlerei," says Manuel Krings, co-founder of Hehlerei. With their work they want to make a statement against high apparel consumption and the associated throwaway mentality. They see themselves as a solutions provider in the wide sense rather than an upcycling label: "At the end of the day our real product is a proper value chain." They view end users in a fresh light because by donating the "raw material" that Hehlerei processes further and obtaining discounts for doing so consumers no longer stand at the end of the production process but at its beginning.
Merchandise with personality
Hehlerei offers a sustainable alternative to customary merchandise solutions especially for the creative and cultural sectors. Their customers include creative artists, musicians, bands, charitable societies, food service establishments, theatres or event organisers, to name but a few. In addition to the re-interpreted garments proper, they also offer the visual design and/or the artwork development. All of this is always done in close cooperation with the artists. "Especially with artists co-creation is an important and also fun way to incorporate the design and/or personality into merchandise the best way possible." Hehlerei offers sustainable and unique mini collections for musicians and bands, which – depending on customers' wishes – can also feature their lyrics.
Uniqueness in large quantities
Is this business model scalable? Hehlerei has been scaling up since its founding. Their apparel donation network is growing constantly and the number and scope of their collections is also rising. Thanks to commercial donations they can even introduce a certain degree of seriality into the collection. Manuel Krings, however, has a very clear position on this: "It is not the stated aim to become a supplier for off-the-peg clothing that only sets itself apart by being second-hand. We also want to retain the aspect of uniqueness of all garments we produce for bigger orders." Beyond this, Hehlerei rates the aim of waste reduction higher than a pure focus on profits. They want to develop the business model of Hehlerei further into a decentralised operation so that there will also be "Hehlereien" as points of contact and networks for sustainable fashion solutions in other cities in future. In addition to this, they are currently working on an online presence designed to make their services and products accessible for a wide audience while respecting their principles and corporate values.
He defines the aim of Hehlerei as follows: "Our mission is to make the fashion industry fairer by re-thinking a specific section of the global value chain – namely the step from the end user market to the disposal – in a more circular, responsible, collaborative and radically co-creative way." According to Krings, upcycling holds a great potential for the textile industry. But he feels that many only consider commercial upcycling a "nice to have" for existing market and manufacturing structures – to him this is not only a wasted opportunity but even negligent.
"Upcycling should be thought as an integral part of global value chains rather than as a cultural technology. To cut a long story short: the importance of upcycling increases to the extent that the awareness for saving resources and circularity rises on the market, and this has already been the case for a number of years."
Website Hehlerei: https://www.hehlerei.eu/
Photos: Hehlerei