Television licencing can be a soft and cuddly experience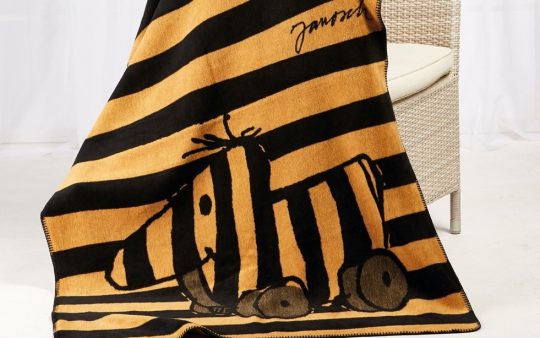 'Tatort', which translates as crime-scene, is an integral part of Sunday evening TV-viewing in most households in Germany. The successful detective series has enjoyed high ratings and consistent popularity over several generations. What better way of rounding off the weekend could there be than curling up on the sofa to watch your favourite crime series? However, might that experience not be even more enjoyable if you also had a wonderfully soft Tatort blanket to snuggle into? The manufacturer Kolter, based in the German state of Hesse and which chiefly produces blankets, came up with precisely this idea. "Kolter" is an old Hessian dialect word for blanket. The Tatort 'kolter' soon became very popular and is now the company's best-selling product. The blanket also triggered a whole line of other merchandising products for Kolter. It has extended its 'Tatort' range to include a 'Tatort' cushion cover, a 'Tatort' game and a 'Tatort' quiz that has been bought in from the publisher Moses.
Christoph Seipp, CEO of Kolter, talked at PromoTex Expo about his experiences with licencing deals. Despite the high level of consultation with licensors that this kind of deal involves, he is very positive about the experience: "I would do it again, every time". Kolter has extended its range of licensed products because television licensing makes commercial sense, even after paying the licencing fees.
Kolter now sells Janosch blankets too and has also adopted several well-known Janosch motifs in its range, just in time for the 40th anniversary of Janosch's story, "The Trip to Panama". The licencing deal between Bavaria and Kolter was completed in February 2018. They now have licensed the characters, Little Bear, Little Tiger, Tiger Duck and Guenter Boxfrog as well as the Janosch logo. The licence currently includes, amongst other items, snuggle blankets for children and adults. Other products are still being planned. The most popular item is the Tiger Duck blanket, followed by the blanket with the Panama motif and the boxfrog. The motifs have been designed in collaboration with an artist and the licensor, Bavaria.
The blankets are manufactured to Oekotex standards in Germany. Janosch blankets are available in S (100 cm x 150 cm) and L (150 cm x 200 cm) and are made of 58 percent cotton, 35 percent Dralon and seven percent polyester. They are machine-washable at 30°C. All blankets are distinguished by their round corners and characteristic ornamental stitching. They also come with a three-year guarantee.
Licencing gives you the opportunity to make all kinds of products for different target audiences. It is primarily about a secondary emotional benefit, as customers associate the familiar motifs with a wealth of memories. Licensees benefit from the high level of awareness of the name, image and popularity of the motifs, making it easier to establish new products in the marketplace. The focus is on the emotional aspects of the customer's purchase decision.
Images: Kolter GmbH