Digital displays for grabbing customers' attention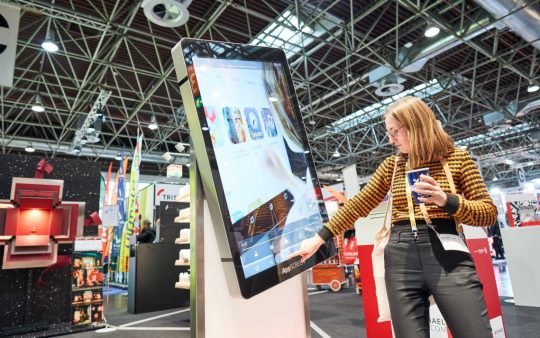 More and more companies are using interactive solutions at the POS. Such systems, however, are both service and cost intensive.
The point of sale plays a crucial role when it comes to marketing. This is where the customer ultimately decides whether to buy or not. As such, displays are a key advertising tool in the retail trade because they attract attention and impact on the customer's decision. Particularly since the customer's choice is frequently emotional rather than rational.
Displays are nothing new – cardboard displays have become well established in numerous industries. However, they are increasingly being challenged by digital solutions, which attract even more attention thanks to their interactive surfaces and acoustic signals. In the meantime, there are numerous variations out there, e.g. interactive customer stoppers, digital showcases, LED displays, wall displays, information desks with touchscreens or animated posters. Products are developing analogously to smartphones and also utilise behavioural patterns that have already been learnt by consumers: a large, slim, clean design helps displays create a modern and exclusive impression.
Powerful and affordable
Of course, a display has to perform well, not just look good, and the price also has to be right. There is a large range of different models on the market featuring different functions. The most popular type is the touchscreen, although a cheaper solution is to use a a touch foil behind glass. The foil follows the movements of the user's finger. A more expensive alternative is the multi-touch screen. This monitor has a surface that is especially sensitive to touch and can recognise more than one touch at once.
An advantage of digital displays is that you can change content quickly and without any hassle. They are easy to control using a content management system via an internet feed. Neither are any printing costs generated and devices can be used long term. The downsides of digital displays are the maintenance aspects, cleaning, operating and software costs.
Intuitive appearance – multiple uses
Digital displays that follow the design of an interactive Android tablet and which can display app store applications are particularly popular. Companies can use their existing apps for advertising purposes. Customers find the service intuitive thanks to its smartphone look. A device has a service lifetime of 30,000 to 40,000 hours and is not only of interest at fairs, events and for the retail trade, as the example from Mainz railway station demonstrates. Deutsche Bahn enables customers to pass time more quickly by using a device that provides information on travel times and journeys. Advertisers are always interested in learning more about their target audience. Integrated cameras incorporated into the displays would be ideal tools for this purpose, but that is not currently permitted in Germany due to the existing data protection laws.