New departures in the world of fashion: the last analogue industry is currently undergoing dramatic changes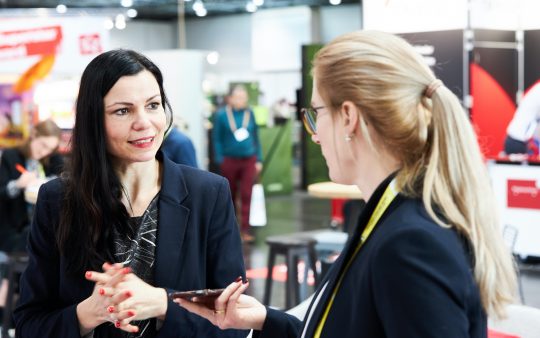 Artificial intelligence which can learn the specific design language of a particular fashion label and automatically generate suggestions for new collections that reflect the brand DNA… Virtual platforms that enable you to find new strategic procurement partners for optimising your supply chain with just one mouse click… This is the fashion industry of tomorrow – and indeed today. At the last PromoTex Expo, Yoona Tech and Sqetch, two visionary companies, presented some fascinating case studies which are already successful today and demonstrate the onset of the digital age in a traditionally analogue industry.
Tomorrow's technologies are already inspiring today's minds
From 3D-software to artificial intelligence – as a traditionally analogue industry, the textile business is currently undergoing huge digital changes. New commercial models are being tapped and existing processes transformed to suit the latest innovations. The major change, however, is a shift in the way industry leaders think, triggering an inexorable process of transformation in the industry. Scepticism is gradually giving way to a recognition and appreciation of the endless possibilities offered by progress. Thus, space is being created for new innovative technologies which will lead the entire industry into a future with far more targeted production thanks to the use of virtual and augmented reality. A world in which it will be easier to work more efficiently and sustainably, and in which Asian and African countries will be far more deeply integrated thanks to cloud communication.
Artificial intelligence as a design assistant
Industry innovator Anna Franziska Michel demonstrated on the Sportswear focus day at PromoTex Expo to what extent artificial neural networks are already being applied to speed up the design process and simplify the production of personalised designs. Together with the Department of Business IT at Berlin HTW, the multiple Female Digital Leader Award-winner has, with YOONA Technology, created a pioneering B2B software solution which is revolutionising the design process. In Michel's words, "As a design-assistance tool, our software uses digital data, such as technical drawings, mood boards and colour concepts from past collections, and also adds the latest trend information by web scraping. Since YOONA Tech is based on a generative adversarial network, the software understands the design language of a brand and generates appropriate design proposals automatically." A so-called GAN has a special architecture consisting of two neural networks which contest with one another and thus also learn from one another. With the aid of this artificial intelligence, YOONA Technology generates around 100 proposals within seconds, including possible colour concepts, print ideas or suggestions for personalization. "The designer is still indispensable though," as Anna Franziska Michel adds reassuringly, "you need someone to train and educate the software; someone who evaluates just what fits with the design language and can, if necessary, also correct the direction things are going. For two years now, Anna has been using YOONA Tech to design high quality sportswear for which she has been utilising personal sports training data to create individual designs. "The software is no substitute for a designer, but it supports you by taking the hard work out of trend research, saves you a trip to the archive during the inspiration process and helps to provide initial draft suggestions." Thanks to these features, YOONA Tech is of particular interest to companies which have to create a complete collection in a rush or want to offer personalised designs but do not have the resources for long creative processes.
Digitalisation: the game-changer in the field of sourcing
Artificial intelligence is not the only concern of the fashion industry at the moment. According to the Berlin innovation company Sqetch Agency, another five meta trends are also currently causing quite a stir. As Anna-Sophie Hoffmann, event & community manager with Sqetch, said at PromoTex Expo, "We have seen that important sustainability topics such as biofabrication and the circular economy are having a major impact on the industry, as are related aspects such as resource sharing and nearshoring.
At the end of the day, however, it will be digitalisation that will be the ultimate game changer in the industry as it reframes the supply chain with new, highly innovative technologies. Artificial intelligence, automation and robotics are increasingly driving factors in production. Online platforms will also be the future when it comes to finding strategic purchasing partners." Sqetch is one such digital sourcing platform, which, after merging with Sourcebook in October 2019, has become one of the largest B2B online platforms in Europe, with over 25,000 members. As Anne-Sophie Hoffmann explains, "Basically anybody with a stake in the market can register for free membership, whether they be brand, designer, manufacturer or official supplier, and then, once they have been authenticated, they can receive free of charge the latest industry news, irrespective of the number of deals they make". The goal of platforms like Sqetch is to both revolutionise and bring the industry together in the long term. "The biggest benefits are the cost and time savings this delivers. There is no longer any need for intermediaries and you can contact the right partner directly digitally." Sqetch also provides useful management tools such as lists of priorities for ensuring smooth-running production processes and provides space for important agreements and past orders, so that it can establish itself as a key link in the chain to ensure the success of many market stakeholders in a globalized world.
Images: Behrendt und Rausch
Text: Julia Bernert