ASI honours Michael Freter as "International Person of the Year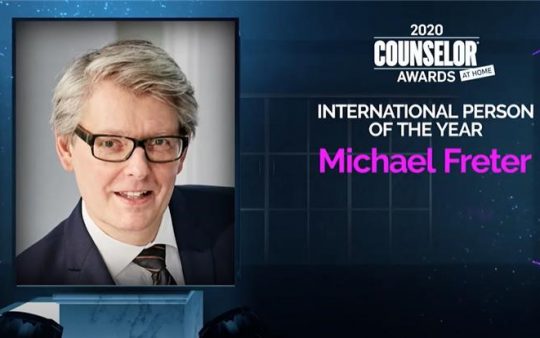 TREVOSE (Pennsylvania) The Advertising Specialty Institute® (ASI) announced the winners of the 2020 Counselor® Awards on 23 July 2020, including Geiger CEO Jo-an Lantz, who was named "Person of the Year" and Michael Freter, CEO of PSI, who was named "International Person of the Year".
The annual awards, which are nominated by industry peers and selected by the editors of the award-winning ASI magazine Counselor, recognize outstanding individuals and companies in the industry. For the first time, the awards were presented in the form of a virtual presentation (#ASIawards) hosted by ASI President and Chief Executive Officer Timothy M. Andrews, which included acceptance speeches recorded by the award winners themselves.
"I am proud of each and every one of our Counselor Award honourable guests who have demonstrated ingenuity, creativity, leadership and generosity during an unprecedented period in the history of our industry," said Andrews.
A trade show organizer in the pandemic
PSI celebrated its 60th anniversary this year. "Although Freter's main task is to ensure the continued success of the show, he also asserts himself as an ambassador for the global promotional products industry – bringing together professionals, making contacts, collecting and analysing market research and data and constantly adapting the show to keep it fresh and attractive for thousands of visitors and exhibitors alike," writes ASI in its press release on Freter's award.
"I first visited the PSI trade show in January 2008," says Freter, who has been working for Reed Exhibitions Deutschland, the organiser of the show, for 12 years. "I was overwhelmed by the huge variety of products and the comprehensive range on offer. At that time, I was a buyer with various marketing roles, but I was never aware of the power of this industry. Moreover, it has changed so dramatically. Every year there are more challenges, from the transition to digital and promoting sustainability to compliance, legislation and shrinking profit margins. Add to that competition from everywhere. But the industry today is the most professional ever as we face all these challenges".
Among other things, he played a key role in forming a PromoAlliance with ASI and Sourcing City in the UK to present a joint initiative to improve the global promotional products marketplace. The international alliance offers reciprocal access to education, shows and meetings, and technology platforms – a forward-looking undertaking considering how many promotional product companies are opening outposts in other countries.
When asked how one of the world's largest event organizers handles trade shows during the COVID-19 era, he says, "We've moved most trade shows into 2021. In addition, digital matchmaking events and webinars are being designed. The added value of these formats is well received. The number of participants reaches up to 400 people per online event," he says. "The most important thing is to stay in touch with customers and ask them what they are looking for, what they need and how we can help them."
Always in action
Freter describes himself as a networker and communicator – a creative who is always in action. Anyone who knows his work ethic confirms this.
"Michael is a truly international interested and experienced person who represents the promotional products industry in Europe," says Ralf Oster, Counselor's 2017 International Person of the Year and Managing Director of PF Concept, the European branch of Polyconcept. "His personal attitude, open-minded, respectful and keen to build cultural bridges makes him a real leader in the global promotional products market".
Marcus Sperber, whose family owns the large Bavarian supplier elasto-Form, agrees. "It is always a pleasure to work with Michael, and we are glad to have him as a reliable partner and friend at the top of our industry," says Sperber. "Michael is doing a great job at PSI to keep our industry current and well positioned for the future. His strategic overview and network are an incredible advantage for the entire industry.
Freter, who has already been honoured with the Worldwide Board of Reed Exhibitions award and two Chairman's Awards, still has a long list of goals to achieve. "The first is the acceptance of our industry as an equal part of all marketing disciplines – the marketing category is the key to this achievement," he says. "My other goal for the industry is to speak with one voice, which is crucial to be heard as an industry. Maybe it's an illusion, but I'm an optimist".
As a pragmatist, Freter has some advice for an industry that is currently experiencing the worst crisis in its history, when promotional products companies in Europe have fallen by an average of 80 per cent. "Never become complacent and always be flexible," he says. "I've never experienced a situation like this before, but the most important thing is that we take care of our people and their families. The other is the technology. Everyone is well equipped, and we've learned that communication in the home office has worked well from day one. The industry is fast, flexible and creative."
Freter says he is the most proud, along with his family, to have created the PSI Sustainability Awards, which have helped consumers around the world begin to understand the importance of corporate social responsibility and ecology to the industry. "There are many things I'm proud of," he says, "but the best lesson I've learned is, that you have to make mistakes to get better, and I've done that very often."
Regarding the PSI 2021 trade show, which is to take place in Düsseldorf from 12 to 14 January, he says: "We are in the middle of a regular planning process for PSI 2021; the trade show will take place. It is a different world with less travel, but with more understanding for each other and for the virus. "The best advice I ever got was from my grandmother, who always said: 'Never give up'".
All winners of the Counselor Award 2020 at a glance:
Person of the Year: Jo-an Lantz, President/CEO of Geiger (asi/202900)
International Person of the Year: Michael Freter, Managing Director of PSI
Technology Executive of the Year: Sai Koppaka, President/CEO of BEL USA
Distributor Entrepreneurs of the Year: Spencer Kramer, CEO; Chris Ferriter, VP of Business Development; and Scott Latimer, CFO of Sobe Promos (asi/245603)
Supplier Entrepreneur of the Year: Ryan Moor, CEO of Ryonet (asi/528500) and Allmade Apparel (asi/34341)
Supplier Family Business of the Year: Jornik Manufacturing (asi/63549)
Distributor Family Business of the Year: City Paper Company (asi/162267)
Bess Cohn Humanitarians of the Year: Jordan Bartlett, Co-Founder; Scott Henderson, Co-Founder/CEO; and Logan Altman, Director of Customer Experience, of Doing Good Works (asi/222095)
Woman of Distinction: Carol de Ville, President of The Branding Co. (asi/145376)
Lifetime achievement award: Marty Lott, SanMar (asi/84863)
During the online awards ceremony, the rankings of the top 40 distributors and top 40 suppliers – the largest companies in the industry measured by sales in 2019 – were also announced.
For more information about the Counselor Awards, please contact Michele Bell, ASI Vice President of Editorial and Events, at mbell@asicentral.com.
Click here for a video recording of the awards ceremony.