Touch without touching: Wearable Tech from the H&M Lab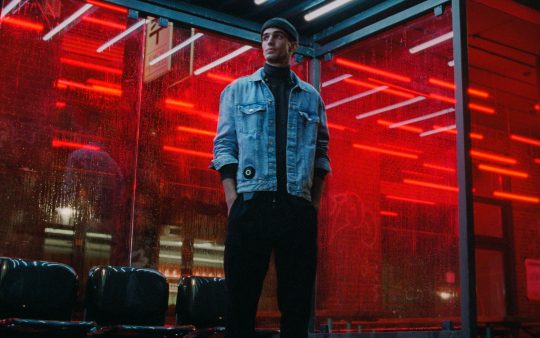 H&M LAB Germany is currently testing a technology for the social distance age. The product idea combines a classic denim jacket with innovative technology. Flexible sensors and tactile elements are incorporated into the shoulder sections of the jacket. An app connects the users with each other and establishes the connection to the jacket – even when people are separated. Tactile signals are transmitted to the clothing via a wireless Bluetooth connection.
Technology for hugging at a distance
The current "wearable love" campaign shows this effect with an emotionally charged film. Together with the agency Wynken Blynken & Nod, H&M LAB is telling a very special love story in times of the Corona pandemic.
With this campaign format, H&M LAB Germany is for the first time involving customers in the development process of a product and thus testing its relevance. Interested parties can vote on the campaign website on the further development and thus help decide how the idea is to be continued.
Digitalization of the apparel industry as a goal
The technology in the jacket comes from the Berlin start-up Boltware. The young company has set itself the goal of becoming the USB standard for the clothing industry to bring sports, fashion and workwear into the digital world.
To this end, Boltware offers a modular wearable tech platform with easy-to-implement hardware components and software solutions that enhance clothing with technical features. According to Boltware, integrating the digital ecosystem into textiles is as easy as sewing a zipper into a garment. The so-called puck is the central hub in the tech universe of the start-up.
How "wearable love" works
In the jacket of the H&M Lab, a carrier module is sewn firmly into the clothing and the puck is simply hooked into it. It supplies the power for the sensors in the jacket and establishes connectivity. The sensor-based technology runs on Bluetooth Low Energy. The puck can supply power to external devices such as LEDs or motors and is the receiver for external signals.
Other technology components in the Boltware offering include a software development kit for programming mobile applications and a cloud service that provides full access to user profiles and data management.
Boltware was founded by Thomas Gnahm, an industry expert who has set himself the goal of becoming the digital standard for the apparel industry. His vision is to provide manufacturers and brands with technical solutions for the garment industry on a larger scale. Gnahm sees himself as a pioneer of a new industry based around body-hugging technology and digital services.
Images and video: Boltware & H&M Lab