Moving pictures grab attention – even in the analogue world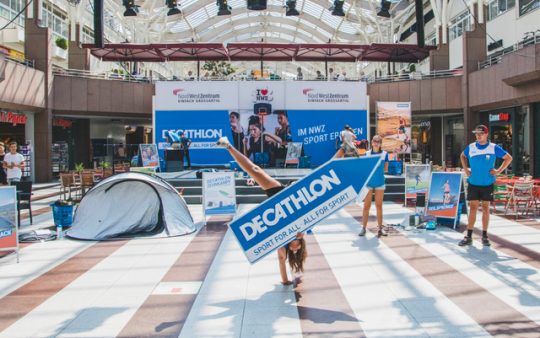 Videos get more clicks than static images on social networks. The same rule applies in the analogue advertising world.
Advertising deliberately distracts in order to attract – no matter where it is aired. Different advertising formats do not just send out messages round-the-clock online – a whole range of out-of-home forms of advertising have also become established in the meantime. They often tend to be larger than life and stand out more. Digital advertising also plays an increasingly greater role in public spaces as well. Nowadays, you see moving digital content on house facades, at bus stops, on arterial roads and in pedestrian precincts too.
You simply cannot turn a blind eye
It is virtually impossible to ignore moving content. People's eyes are automatically drawn to a flickering screen close-by. Anything that moves, immediately grabs our attention. As humans, we are hardwired to respond to such stimuli. It is impossible to ignore such things because movement can spell danger. This is the reflex that protects us from being attacked by wild animals. In the past, we used to react to predators, now we react to moving traffic instead.
Spinning signs
Sign spinning also takes advantage of this risk conditioning, but in a totally analogue manner. It first started as a form of advertising in the USA in 2002, basically by taking the professions of sign-holder and sandwich man (people who stand around on street corners with adverts) to a whole new level. Max Durovic and Mike Kenny, the founders of AArrow Advertising, found standing around too boring, so they started to throw their signs around and twirl them through the air. They soon realised that they received far more attention this way. Sign spinning was born.
Luebecker Philipp Schatton brought sign spinning to Germany in 2008 and founded SignSpin in 2013. In the meantime, the company has more than 250 employees who whirl their signs through the air in gay abandon at events and as part of publicity campaigns throughout the whole of Germany.
Messages also work at a distance
In times of social distancing in public spaces, sign spinning provides an excellent opportunity to guide people to stores or venues, to advertise products and point out special offers. Sign spinners can also be seen from a distance, as this video of a moving perfomance clearly illustrates.
Advertising as a side effect
With whirling adverts, what is important is the sheer exuberance and skills of the sign spinners. The more proficient they are, the better. Sign spinners do not just grab their audience's attention, they also offer an entertaining display, and passers-by voluntarily stop and watch. The advertising message on the sign is an integral part of the show and has a lasting and positive effect. This has been shown by an advertising recall survey from 2018 which revealed that 87% of spectators found the sign spinners' advertising to be positive or very positive. Here is a link to a video summarizing the results of the