Outdoor advertising as an urban air purifier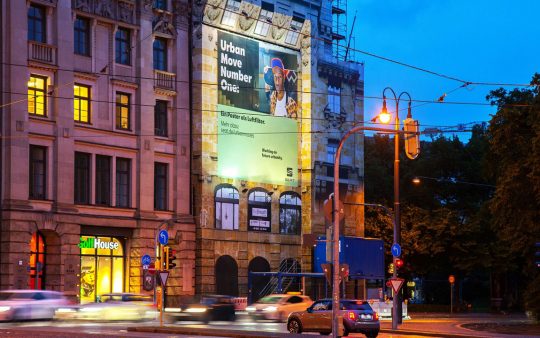 Many cities all over the world suffer from air pollution. A modern poster material has been designed to filter dirt from its surroundings.
More and more cities are introducing measures to combat air pollution. They are planting trees, banning diesel vehicles and many are switching to renewable energies. Anemotech (link https://en.thebreath.it) also has a vision of a better environment and believes that people will be able to live in a healthy, safe and sustainable world in the future. The company has also made its own contribution to the environment by developing a fabric called "The Breath®".
Fabric with an integrated air filter
The triple-layered textile is distinguished by its in-built air purification system. The front and backing are made of a printable, anti-bacterial breathable fabric. At its heart is a carbon core with integrated nano molecules. These nano molecules absorb, retain and filter out pollutants from cars, industrial plants or agriculture from the surrounding air, binding them permanently. The Breath® requires no additional energy for the cleaning process. Solely the motion of the fabric in the natural air current is enough.
Effective for six months
The fabric is suitable for use indoors and out as well as for special applications, e.g. textiles. It was first used as a giant air-purifying poster in Germany. The outdoor advertising company Outsite Media (link https://outsite-media.de) used it for a motif for Seat's "Urban Move" campaign. PHD Germany (link https://www.phdmedia.com/germany/) is responsible for the concept.
The approx. 100 sq. m poster hangs in Lenbachplatz in Munich, absorbing particles, neutralising odours and killing pathogens for up to six months. Indoors, it retains its purifying effect for up to eighteen months.
Contribution towards better air
According to Outsite Media, a gigantic large-format poster made of the special fabric can filter pollutants from up to 400,000 cars, thus helping to reduce air pollution. Initially, it may appear to be somewhat ironic that the first poster to appear in Germany in this material was for an automotive manufacturer. However, with "Urban Moves" (link https://www.seat.de/kampagnen/urbanmoves.html), Seat is focussing on the topic of sustainability so that, ultimately, it fits quite well.
Anemotech also illustrates other outdoor applications of The Breath® on the internet (link https://en.thebreath.it/progetti/outdoor/) and recommends using the fabric not just for large posters but also for urban furniture, street signs, building site fences, advertising systems and in close proximity to air conditioning and exhaust air installations.