Patented antimicrobial drinkware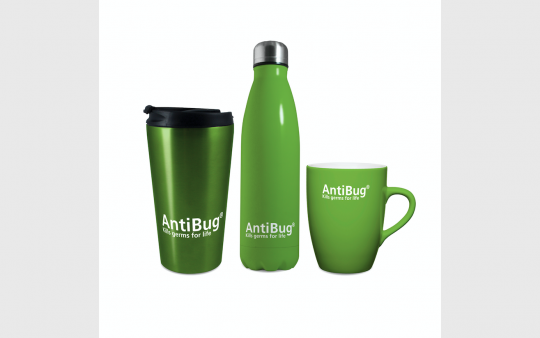 Manufacturer Listawood are reporting a surge in demand for their innovative and patent protected range of anti microbial drinkware. Sold under the AntiBug® trademark, the company first launched this range of products back in 2012; responding to well-publicised concerns about the transfer of pathogens in busy settings such as hospitals and care homes as well as in the corporate environment. During the past 8 years, Listawood have extended the lines available with this treatment now available on a comprehensive range of the most popular drinkware items including ceramic mugs, stainless steel thermal bottles and coffee-to-go cups and tumblers.
"Our AntiBug® treatment has always been a popular line for us but in recent months demand has been growing exponentially with brands and the wider consumer being much more conscious about hygiene best practice and the risk of infection transfer." Commented Alex Turner, Managing Director, Listawood. "We've always been committed in our desire to offer unique and innovative lines and AntiBug® is testament to this. It is important that our customers are aware that they are supplying products whose performance is supported by robust independent laboratory test data and is protected via our patent process, meaning that they can pitch Listawood products with complete confidence" added Turner.
AntiBug® coated surfaces start to fight bacteria as soon as they come into contact with the product and the process has been clinically proven to kill 99.9% of harmful bacteria within a 24 hour period. AntiBug® products withstand repeated cleaning cycles whilst maintaining antibacterial effectiveness and, what's more, the AntiBug® treatment lasts for the lifetime of the product. This treatment is available on a wide selection of Listawood's best selling promotional products; including the entire range of its Thermal Bottles, coffee-to-go cups, pantone matched ColourCoat mugs and Duraglaze PhotoMugs.
Listawood have invested heavily in global patent protection to support their innovations. In addition to their anti-microbial technology for drinkware they have a wider portfolio of granted patents and applications in progress for their satin / matt dye sublimation drinkware, toner transfer coloured ware and their multi-award winning new colourfusion products. For more information visit: www.listawood.com/antibug