How has Corona changed the promotional products industry in the Netherlands?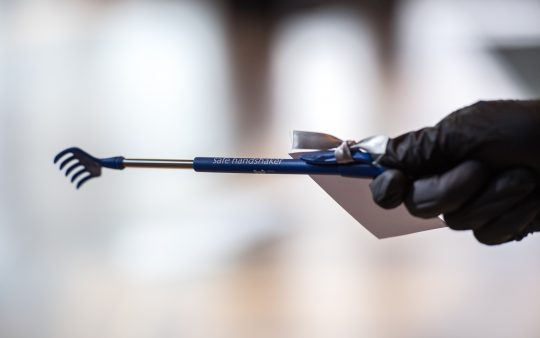 A new creativity, new applications and tax relief: Even though the sales expectations in the promotional products industry for 2020 have been significantly revised downwards, the Dutch industry association Platform Promotional Products | PPP is also observing positive developments and trends in the market. Here is an overview.
EM articles will be slow sellers this year
The postponement or cancellation of events, whether large or small, has major consequences for the use of promotional items. One example is the fan articles of the European Championships, which will remain on the shelves this year. At the beginning of the Corona crisis, almost every company within the industry saw its sales decline significantly. Especially suppliers of promotional items via e-commerce were directly affected, while parties with long-standing projects did not notice the consequences until some time later.
Creativity has done its job
Out-stung in this special time however a new creativity of the entrepreneurs is. By the omission of e.g. team building, fair and network activities advertising novelty offerers considered together with their customers, in what respect an advertising novelty can represent a positive element in this bizarre time. This has led to good, effective suggestions, with the result that many showcase orders have come about.
Showing appreciation through promotional items
So, the Corona crisis does not only mean sorrow and worry. There are also positive developments, for example in terms of valuing employees and cultivating relationships. Here advertising novelties play a strengthening role. For this reason, they have been used frequently in recent times for personal messages, news and other activities aimed at employees, for example. Actually, the crisis has made the appreciative message of promotional items particularly clear. How nice, for example, is it to have a package of drinks and snacks sent home at noon on Friday, or nice gadgets for your desk to make work more pleasant and know that you are being thought of? Or a nice beach bag to wish you a nice vacation after all?
200 million extra tax benefits
Tax relief offers entrepreneurs more leeway to value their employees and/or maintain business relationships. As a result of the Corona crisis, the Dutch government has allocated an additional 200 million for this purpose. This measure has come about through the joint efforts of the Association for Business Interests ONL and affiliated industry associations, including PPP. Above all, companies within the sector that specialize in the distribution of promotional and Christmas articles can benefit from this facilitation. In order to bring the message to final customers clearly over PPP developed an animation for its members: https://www.youtube.com/watch?v=e6dFpe-I3ho.
More consciously and still more professionally
Of course there are still many uncertainties at the moment. For example: What happens when government aid is terminated? Does the Corana virus change the way consumers and businesses think? Will we live more consciously? Will we fly less? Are we really going to focus on sustainable products? Who knows… It seems to be a fact that due to the crisis the future will look different for everyone and for all companies. We expect that organizations will purchase promotional products even more sustainably and use them even more consciously. More and more customers understand that the right use of a promotional item leads to a good return and that a reliable and knowledgeable supplier is crucial to this.
About Platform Promotional Products
The Platform Promotional Products | PPP is the industry association for retailers and suppliers of promotional products. PPP is a professional organization controlled by experienced managers from the industry. PPP has around 230 members who work together to draw attention to the added value of promotional products. The development of expertise, sustainable entrepreneurship and fair business are of utmost importance. PPP members have all signed the code of conduct and distinguish themselves in the market by using the PPP membership as a quality mark for business customers and end consumers.
More information: www.ppp-online.nl
Text and image: Platform Promotional Products