The popular BILLY bookshelf to wear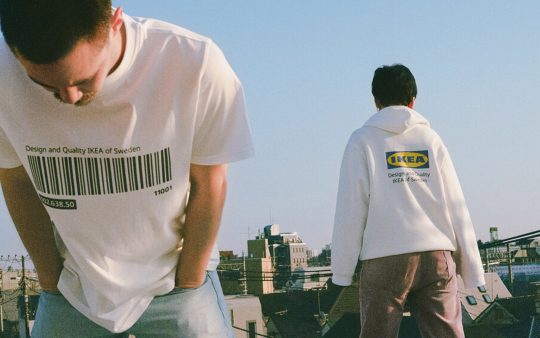 The Swedish furniture store IKEA shows that a furniture store is portable. It has launched a fashion line in Japan – branded with the yellow and blue IKEA logo. The EFTERTRÄDA collection includes a hoodie and a T-shirt as well as a tote bag, a water bottle, bath towels and an umbrella.
It was presented exclusively in Harajuku, a district of Tokyo. The location of the launch was deliberately chosen. Harajuku is known for its colourful street art and fashion scene. Besides fancy stores with vintage clothes, cosplay stores and boutiques, bars and trendy cafés line the alleys of the quarter. This is exactly the right scene for a collection that was developed in close cooperation with the Swedish parent company of IKEA Japan. It is inspired by the people of Tokyo and made for those who represent the cultural melting pot of Harajuku.
IKEA on the catwalk
According to IKEA Japan, the sale of clothing and accessories bearing the yellow-blue brand logo is a first. The impulse for the collection came from fashion designers and fashion houses worldwide, who in the past showed the branding of the furniture store in their own collections and brought it to the catwalks. After the shows, fake logo shirts appeared on the streets of Tokyo. IKEA is now countering this with its own "real" collection.
Positioned for trendsetters
The line is advertised by young models and fashion influencers. One of the stars of the campaign is imma, a virtual model with a worldwide fan base. The computer-generated influencer presents the IKEA merchandise together with four real model colleagues* in videos and in a stylish lookbook for the collection.
Question about the future
EFTERTRÄDA means heir or heir apparent in Swedish. With the release of the merchandising collection, IKEA also asked the question: Could our clothing and accessories line succeed our furnishing solutions? There was no answer to this question, but there was the resolution of the barcode on the clothing. It is an allusion to the best-selling IKEA product, the BILLY bookshelf.
The collection is currently only available in Japan – online and in the IKEA, furniture stores there.
Picture: IKEA