It is high time we got back together again: Europe's promotional product industry is meeting up again for the first time in January 2021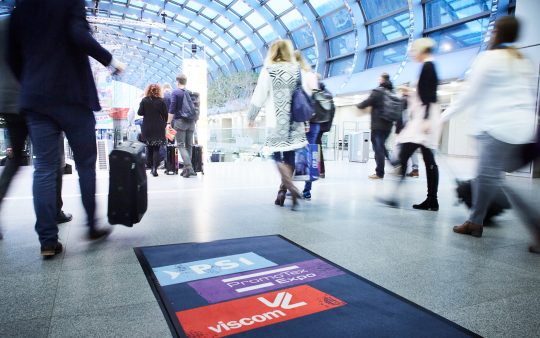 More focused, more sustainable and, above all, safe: PSI, PromoTex Expo and viscom will be very special fairs in 2021. The most important thing, however, is that, as matters stand, they will indeed be taking place. After a year's social distancing, the three trade fairs will bring the promotional product, textile and finishing industries back together again under one roof from 12th – 14th January 2021. This will not only provide an opportunity to meet up again at long last, the fairs also signal the start of a long-awaited new financial year.
Companies who have already booked stands for 2021 include uma pens, JCK Group, TROIKA, Anda Presents, Kalfany Süße Werbung, Matterhorn, Mascot, Trotec Laser and OKI. As Liudger Boell, CEO of TROIKA says, "We need to be patient and we will still have to wait some time before we see a sustainable upturn in the industry. Which is why it is all the more important to send out a positive signal in 2021. Ultimately, it is the customer we have to persuade with our ideas and not the controllers of this world. And for that we will need all our optimism and powers of persuasion over the next year. We'll see you in 2021!" Kai Gminder, Managing Director of Gustav Daiber GmbH, agrees wholeheartedly, "At the moment, one thing is perfectly clear for Daiber: if PSI takes place, then we will be there. PSI is and always has been the leading fair in our eyes. So let's hope it really will be a happy and prosperous New Year next year. Let's be honest, there is no better time for looking forward."
The programme will be augmented with digital solutions
While the first trade fairs with well-functioning concepts have already been taking place since autumn 2020, PSI, PromoTex Expo and viscom are also all geared up and ready to go with a fresh hygiene and safety concept in January. As well as having a well-conceived guidance system, the concept will use safety rules that are already familiar from the retail trade – keep your distance, pay attention to hygiene and wear a mask. According to Michael Freter, CEO of the fair organizer, Reed Exhibitions, "The concept is so well conceived that nobody needs to stay at home for safety reasons".
Petra Lassahn, director of the three trade fairs says, "We are currently developing new digital solutions that will provide many opportunities for those visitors who cannot make it to Dusseldorf next January. Amongst other things, the new concept also includes exhibitors' specially prepared product highlights, and events will also be streamed. Another new event is "video matchmaking", which the fairs will be using to bring both exhibitors and visitors together live.
Fringe events: live and digital
There will also be a diverse programme of fringe events relating to topical subjects in the industry – both live and digital – for all trade visitors. The first thing that visitors will encounter when they enter the entrance area will be the PSI Product Presentations showcasing the latest innovations, custom designs, top sellers and the most sustainable products made by the promotional product industry. All visitors are encouraged to vote for their particular favourite. The products receiving the most votes will be announced on the final day.
The PSI Newcomer Area, which is moving to Hall 9 in 2021, provides fresh impulses, unusual ideas and brainstorming products. This is where you will find exhibitors who are here for the first or second time as well as inventors with new ideas for shaking up the industry. In the adjacent hall you can taste and try things at GUSTO. The tasting area in Hall 10 will no doubt be as popular as ever in 2021 with promotional products that appeal to the senses, whereby all hygiene standards will be met, of course.
Personal contact and training opportunities
Major focus will also be laid on matchmaking during the pandemic since making and maintaining contacts are a couple of the main reasons for visiting a trade fair in the first place. Visitors will have the opportunity of meeting business partners, investors, manufacturers or distributors in the Matchmaking Lounge in Hall 10. It is also possible to arrange appointments beforehand.
The Forum experts will be demonstrating in Hall 10 just how the COVID-19 pandemic has affected the advertising and textile industries as well as what new business models and the latest technical developments in the marketplace can look like. The latest topics concerning the industry will be addressed and discussed on stage. These events will be supplemented by a training programme offered in the Corel & Adobe Forum in Hall 11 where visitors can discover everything about the latest software solutions and how they can be integrated into their daily workflow. Professionals will also be sharing valuable tips and tricks and answering questions relating to the different software programmes.
Sustainability Awards will be presented at the fair for the very first time
The topic of sustainability plays an ever greater role in the worlds of advertising and retail. The pandemic has, if anything, probably reinforced this trend. In 2021, PSI will become one large platform for sustainability as the important PSI Sustainability Awards, the only sustainability prizes for the industry, will be presented at the fair for the very first time. The green trophies will be awarded in Hall 10 during the course of the event. All information relating to the different awards is available at www.psi-awards.de.
PromoTex Expo will also be laying more focus on the topic of sustainability as well. The centrepiece will be provided by the Textile Campus in Hall 11. This is where information, networking and education relating to climate protection in the world of textiles will all come together in one event. People from the textile industry can learn more about new strategies, trendsetting concepts and innovative projects for responsible action from real-life experience. They will also be able to learn how textiles and clothing can be produced more sustainably yet still gain a foothold in the marketplace.
Inspiration for advertising technicians and finishers
Businesses have often had to extend or re-invent their areas of operation on account of the pandemic. Over the last few months, advertising technicians have led the way and developed ideas for preventing infection by creating barriers, distancing markings, one-way systems and other products. The special show Ideenschmiede (Engl. "ideas forge") in Hall 11 takes a look at some of these product ideas and uses prime examples to show just how advertising technicians can ramp up their portfolio in these difficult times.
The special show "Make Your Shirt" inspired fair visitors in 2020 with its DIY character. In 2021, the format has been taken a stage further and now goes under the name "Fulfil Your Shirt" and demonstrates the production process of a T-shirt, from being given an initial QR code right through to being delivered to the customer. As well as granting the opportunity to create your own print motifs, the focus will also be on the industrial mass customisation of personalised textiles. Visitors can look forward to seeing how digital IT and shop solutions can be linked with digital printing.
Fairs continue to be permitted – also with international visitors
You are still allowed to participate in a fair in times of the pandemic, even if you are coming from abroad. This still applies after the Corona pandemic containment resolutions taken at national and federal state level in Germany on 14th October 2020. An exception has been made for events that use a hygiene concept that has been previously agreed with the relevant public health authority, so that restrictions on the number of participants do not apply in this case. This has recently been confirmed by AUMA, The German Trade Fair Association. There are no travel restrictions placed on visitors from EU member states and other countries included on the positive list of countries. It is also possible to travel from all other countries because trade fair visitors are considered to be business travellers with an important reason for travelling. Your fair ticket in conjunction with a business appointment at the fair is considered to offer sufficient proof to allow you into the country.
"The upcoming version of our event will be unique because it will connect the digital and analogue promotional article worlds with one another for the very first time", Michael Freter has announced. "The digital offering will provide valuable support for bringing the global industry together when borders are closed and travel restrictions do not permit normal business. Even if digital products do provide us with new opportunities, however, they are no substitute for personal contact. There can be no doubt that long term, trusting business relationships require personal contact at a trade fair." That is why PSI, viscom and PromoTex Expo 2021 attach such importance to holding a live event and find such positive support among their exhibitors.
First Digital Friday
PSI is being held together with PromoTex Expo and viscom from 12th to 14th January 2021 at Duesseldorf Exhibition Centre. The exhibition halls will be open from 9am to 6pm on the first two days of the event and until 4pm on the third day. For the first time this year, we are offering Digital Friday to all those who have missed things during the fair or cannot make it to Duesseldorf. On Friday, all digital events will be available on-demand, including videos of the exhibitors and speakers. You will also be able to use the digital networking and sourcing offers that day.
What our exhibitors say
"We need to be patient and we will still have to wait some time before we see a sustainable upturn in the industry. Which is why it is all the more important to send out a positive signal in 2021. Ultimately, it is the customer we have to persuade with our ideas and not the controllers of this world. And for that we will need all our optimism and powers of persuasion over the next year. We'll see you in 2021!"
Liudger Boell, CEO TROIKA
"We are pretty optimistic because the first fairs held in September went successfully and because people from the industry are obviously allowed to visit such events. At the moment, one thing is perfectly clear for Daiber: if PSI takes place, then we will be there. PSI is and always has been the leading fair in our eyes. So let's hope it really will be a happy and prosperous New Year next year. Let's be honest, there is no better time for looking forward to the future."
Kai Gminder, Dipl. Econ., Managing Director of Gustav Daiber GmbH
"PSI offers an important platform for intense discussions with partners about the current situation, central themes and concepts. It is an opportunity to return to a new normality that will certainly be different from the period before the crisis. But like every change, it does not just bring challenges, but also presents fresh opportunities. STABILO will be there. The timing, right at the beginning of the year, is the perfect opportunity for presenting innovations and starting the new year together, brimming with motivation."
Harry Saffer, CEO, Schwan-STABILO
"January's PSI is a marvellous start to the year for koziol. We will also do everything within our power to inspire visitors at PSI in 2021. Naturally, we have started thinking about how we can make sure that our customers feel safe and have already started putting together all the necessary hygiene measures while planning our stand. Personal interaction with customers and business partners is also essential for our company, and PSI is simply the perfect opportunity for that."
Uwe Thielsch, Sales Director koziol
"PSI gives us the opportunity to show ourselves in our best light. As an international fair, it guarantees the perfect platform for our brand. That is why we will definitely be there in 2021. Sure, there are a lot of things outside our or PSI's control but that is also a reason for me to stay on board."
Frank Jansen, Corporate Representative for J.G. NIEDEREGGER
"We will most definitely be present at PSI because it is absolutely vital for the industry that we take this opportunity to get the new year off to a good start. The fair is always a good opener to the year – maybe all the more so this time. I think it's important that we should experience it more intensely next year and thrive on that feeling in the future. Then nothing will be able to stop us in 2021."
Steven Baumgärtner, CEO Cybergroup International & Global Director Sales
PSI is an important platform for collaborating with the advertising industry. That is why it is perfectly natural that we will also have a stand there this year. It is particularly important in times like these that we don't allow contact with representatives from the industry to fall by the wayside. That's why we are following the government's latest regulations and have developed a comprehensive hygiene concept for our stand to ensure that everything is safe."
Dirk Müller, CEO LEONARDO PROLINE HoReCa, glaskoch B. Koch jr. GmbH + Co. KG
"We immediately decided to participate in PSI 2021. Not so much in spite of, but rather because of Corona. What is important for us is the personal contact and discussions with customers. There is no better opportunity than trade fairs for showcasing your products. It is the only real opportunity you have for communicating the feel, quality and innovativeness of your merchandise. We are aware that in 2021 PSI will be totally different to what we've previously been used to. By participating, we hope to be able to light a beacon for normality and support all those people whose jobs depend on trade fairs and exhibitions and to help them through these difficult times."
Axel Dostmann, Managing Director, TFA Dostmann GmbH & CO. KG