Digital printing meets augmented reality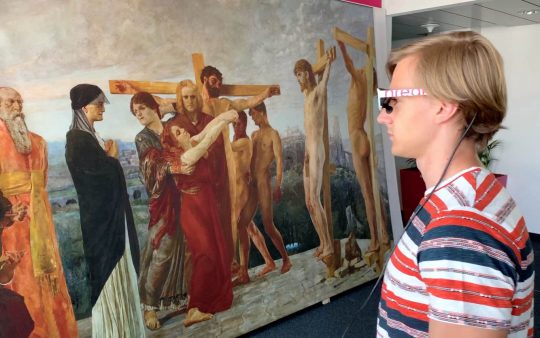 The German branch of Mimaki – the globally operating manufacturer of large-format inkjet printers and high-precision cutting plotters for the signage/graphics, textile/clothing and industrial sectors – is involved in the art project of the Bundeskunsthalle in Bonn for the current exhibition "Max Klinger and the Artwork of the Future".
+++
The museum will be showing around 200 works by the pioneer of German Symbolism until 31 January 2021. Part of the exhibition is the augmented reality special show "When Art Comes To Life". Every Wednesday and Sunday from 28 October to 20 December 2020, registered visitors will have the opportunity to look into the depths of the individual objects in the painting "The Crucifixion of Christ" (1888-1891) with AR glasses and at the same time receive an audio guide. A guided tour lasts 15 minutes. The Mimaki team in Munich printed a replica on a scale of 1:1 for the preparation. Nreal Technology Limited supplied the appropriate AR glasses whilst the graphic representation as well as the technical realisation was carried out by Deutsche Telekom AG and T-Systems Multimedia Solutions GmbH.
Realisation using core technologies of Mimaki
Mimaki used the UV-LED large-format printer UJV55-320In to reproduce the original dimensions of 251 x 465 cm. The replica was to be fixed in a tenter frame which is why the team selected a plastic fabric as the material. Image sharpness was also a requirement. Ultimately, the reproduction was to be used to correctly adjust the AR glasses in order to be able to see the individual objects of the painting in every detail at the exhibition. For this purpose, Mimaki's own core technologies such as the Mimaki Advanced Pass System (MAPS) and Mimaki Fine Diffusion (MFD) were used. MAPS avoids stripes caused by staggered ink drops and ensures a natural colour gradient. MFD reduces the image noise generated during image data processing, thus ensuring that better print results can be achieved without colour deviations.
Printing on a wide variety of materials
Rupert Pinzel of Mimaki Deutschland GmbH, the project contact person, commented: "Another special feature of the UJV55-320 is that the UV ink cures immediately under LED light and therefore allows printing on a wide variety of materials. We are very pleased to be able to make a contribution to a public cultural institution and hope that even more museums will recognise the possibility of digital printing". For more information about the products and services of Mimaki, visit: www.mimakieurope.com
Photo: Trying on AR glasses.