RETIME® Workbook: Simple explanation of promotional watches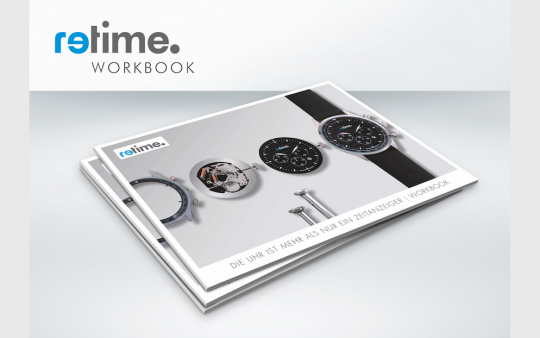 RETIME®, the specialist brand of REFLECTS® for premium promotional watches, has published its first own workbook. In contrast to a conventional catalogue, this workbook clearly explains the subject of watches and their design possibilities and provides inspiration for individual watch projects.
The long-standing Cologne-based company presented its new multi-brand strategy at the PSI in January: Various core brands provide focal points for high-quality, creative promotional products and give the range more transparency and clarity. In addition to RETUMBLER®: Best of Drinkware and REEVES: Smart Electronics, the Cologne-based promotional product supplier has been active in the watch sector for over 20 years. "RETIME®: Cool watch concepts" is synonymous with high-quality promotional watches, custom-made for the respective target group and enhanced by excellent finishing options.
The clear decision against a classic catalogue is particularly aimed at distributors who have not yet discovered the potential of the promotional watch as an advertising medium. The comprehensive workbook has been prepared in an informative and creative way for distributors. The promotional watch is understood as a creative concept with which different target groups can be addressed through individualisation. Even distributors who already design promotional watches with their customers receive new impulses and can discover new possibilities for themselves. REFLECTS® also provides exclusive insight into the manufacturing process and demonstrates genuine specialist know-how with its in-house watch workshop. T
he new workbook is initially available exclusively as an online catalogue. Distributors can order cover versions of their own design on request. www.reflects.com