L-SHOP-TEAM: The next generation in management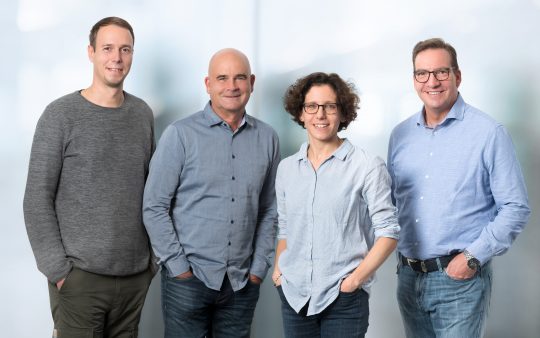 As of 1 November 2020, Björn Emmerich and Andrea Herrmann (née Jolitz), partners of L-SHOP-TEAM GmbH and children of the company founders Armin Emmerich and Holger Jolitz, will be part of the management of L-SHOP-TEAM, a textile distributor for promotion, leisure and business operating throughout Europe. They will henceforth manage the company together with Jörg Bittorf and Stefan Schenk who have been managing the company for many years.
Björn Emmerich (41) has already worked in his father's company for 25 years and was previously responsible for Warehouse and Logistics Management. Andrea Herrmann (39) has been in charge of the Customer Relationship Management department since 2018, but has also been supporting sales and customer service for over seven years. "With Björn Emmerich and Andrea Herrmann, the course has been set for the L-SHOP-TEAM to remain a family business in the future and to continue successfully," says Stefan Schenk as he welcomes the addition to the management team. "As a team of four, we are well positioned to pursue further growth," adds Jörg Bittorf.
With more than 120 international brands and 6,500 articles in the leisure, promotion and business segments, Dortmund-based L-SHOP-TEAM serves the B2B textile market in Germany and ten other countries (Sweden, Denmark, Norway, Belgium, the Netherlands, Switzerland, Austria, Poland, the Czech Republic and France) with textiles, accessories and finishing materials. www.l-shop-team.de
Photo: The managing directors (left to right).: Björn Emmerich, Stefan Schenk, Andrea Herrmann, Jörg Bittorf.