Labour Minister visits Rastal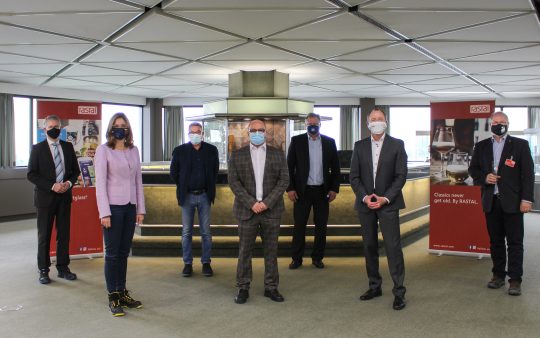 With its patented RASTAL Smartglass®, the glass finisher RASTAL has once again demonstrated its keen sense for future-oriented solutions. Digital concepts have been in greater demand than ever since the outbreak of the coronavirus. In order to gain first-hand insights, Sabine Bätzing-Lichtenthäler, Minister of Labour of Rhineland-Palatinate, and Hans-Joachim Gerloff, Central Rhine District Manager of the Mining, Chemicals and Energy Industrial Union, visited the company in Höhr-Grenzhausen as part of the labour market initiative #rechargeRLP.
The family business, which is still owner-managed today and steeped in tradition lasting over 100 years, is being managed by the third and fourth generations. As one of the largest employers in the region, the globally operating company has taken on the responsibility of combining technological innovation and good working conditions. To this end, the management and the works council work closely and constructively together. "At RASTAL, a well-functioning and stable social partnership has been established, which proves its worth especially in times of crisis. The company's sectoral collective agreement is a good instrument to satisfy the interests of both employer and employees. Collective bargaining coverage is a particularly valuable asset in times like the corona pandemic which does not stop at technological change in the modern working world. It is therefore a particular wish of mine to exchange views on the current challenges on the ground", emphasised Bätzing-Lichtenthäler.
More than five years ago, the specialists for drinking glass design tackled the topic of digitalisation and the possibilities of real-time interaction in glass. The result is a completely new communication platform. Thanks to the future-oriented RASTAL Smartprint® printing process, it is possible to integrate an NFC chip on drinking glasses permanently and dishwasher-safe into the brand image. "In order to remain successful, we have to recognise trends early on and ideally shape them. It is not enough simply to develop products. It is much more about offering new ideas and extended services, rethinking value chains and organising strong customer loyalty," explains managing partner Raymond Sahm-Rastal.
The RASTAL Smartglass® concept has been awarded, inter alia, the Rhineland-Palatinate Innovation Award 2019 in the category Digitalisation/Industry 4.0. The Minister emphasised: "With the digitalisation of the drinking glass, Rastal has demonstrated an intuition for innovation and progress. Such companies are exemplary for Rhineland-Palatinate". www.rastal.com
Photo: (left to right): Achim Deusner, Sabine Bätzing-Lichtenthäler, Raymond Sahm-Rastal, Meiko Wagener, Volker Müller, Thomas Nieraad, Hans-Joachim Gerloff.