Everything in colour: finding the right tone digitally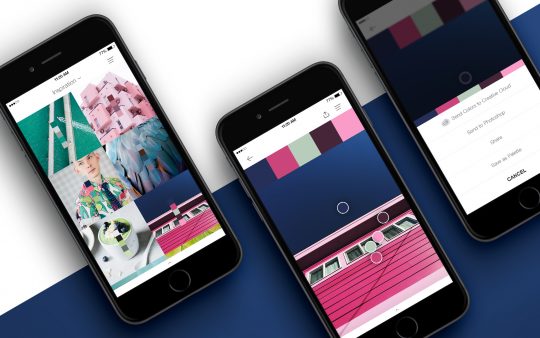 It is not always easy to find the right shade of a particular colour across different computer screens. There are, however, digital tools out there to help distinguish professionally between different greens when working from home.
Today's digital opportunities have changed the way in which graphic artists, designers and users work. They now use the latest software programmes on their computers to complete their assignments. However, this is not always easy when working from home. The domestic workplace often fails to provide the conditions you would expect to find in agencies or printing works when it comes to selecting and judging colours professionally. A lack of calibrated monitors and normed lighting means that it is virtually impossible to work accurately.
Digital tools for defining colours
The "PANTONE Studio" app helps designers to record and define colours in their environment and also combine them with matching colours. Users have access to a comprehensive library of more than 10,000 colours contained in the Pantone libraries. They are stored in the app in the same way as they are sorted in the physical Pantone colour books and arranged chromatically in colour families. Any new colours introduced are also incorporated automatically. A particularly useful feature of the app is a listing of the colour values and references in sRGB, Hex and CMYK and the inclusion of complementary, monochromatic, analogous, split complementary and triadic harmonies.
The studio app enables you to define colours simply using your smartphone camera, also permitting the creation of a custom colour palette for a particular image. Designers and graphic artists can also share their ideas and colour concepts with customers or collaborate with colleagues at any time. An interface to Adobe Creative Cloud permits data to be synchronised. However, the app is currently only available for iOS and thus only able to be used on Apple devices.
New colour platform
The platform "PANTONE Connect" also helps merge the physical and digital worlds. It caters for all users and has also been programmed for Android. The digital platform works in combination with the credit card-sized "Colour Match Card" and the user's smartphone. Colours of different materials and objects can be assigned to the corresponding Pantone colours by means of the smartphone camera and card. The accuracy of this method is meant to compare with results achieved by high-quality colour measuring devices. The cards can be used with all currently available systems – PMS™, FHI, CMYK and SkinTones.
This video demonstrates just how the "Colour Match Card" works.