Print has more than just two sides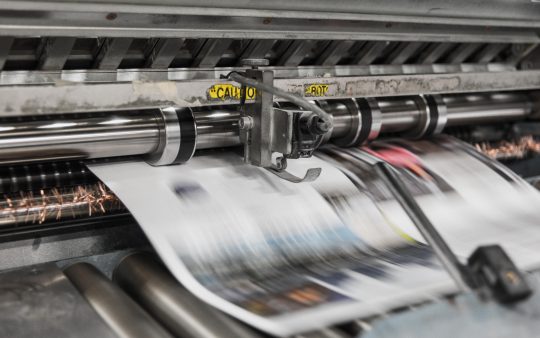 The initiative Two Sides is engaged in promoting print and paper as sustainable media for the world of communication.
Businesses from the graphics industry founded the Two Sides initiative in 2008. The organisation has around 600 members from the worlds of forestry, cellulose, paper, printing inks and chemicals, preparation, printing, finishers, publishers and printers, all pursuing the common aim of using print and paper responsibly. They would like to clear up any prejudices and provide reliable information regarding paper as a sustainable tool for communication. The core idea behind the initiative is that the medium of print is renewable, recyclable and available across many generations.
Digital green washing
The initiative positions print as a sustainable form of communication in an increasingly digital age and is directed explicitly at countering claims that using paper is wasteful, causes pollution and even responsible for deforestation. It uses a campaign to illustrate that digital communication does not necessarily save resources in comparison to printed products, for example.
When companies switch to electronic invoicing, they like to support this with environmental claims such as "Go green – go paperless" or "Choose e-billing and save trees". Two Sides views such messages as erroneous and misleading. Their argument is that such statements are merely green washing and deliberately cast paper in a negative light in people's minds. In such cases, representatives of the initiative contact companies and organisations about their environmental message and ask them to correct them accordingly. They have also been successful in their mission, with more than 70 percent of informed companies contacted by Two Sides having revised or removed such negative messages.
Studies relating to environmental and social matters
Two Sides also regularly publishes news and studies that deal with a wide range of environmental and social issues to clear up any such misunderstandings and provide consumers, business and the general public with more accurate information regarding print and paper. Themes range from the environmental impact of electronic communications, the water balance of paper, to the sustainability of paper-based printed materials. Topical matters such as the possible transmission of the coronavirus via paper and cardboard surfaces are also covered.
European packaging study
In March 2020, an independent research company conducted a survey among 5900 consumers in nine different European countries regarding their attitudes towards packaging. The results show that paper-based packaging is preferred on account of its environmental qualities. It partially performed well because of its recyclability and ease of composting. The survey also revealed that consumers throughout Europe are ready to adapt their buying habits in favour of sustainable products. Many said that they would be prepared to pay more for products if they were to be packaged in sustainable materials, and almost half said they would even avoid a retailer if they had the impression that the company did not do enough to protect the environment.
The results have confirmed the members of Two Sides in their work, since consumers' changed buying patterns and their desire for greater sustainability reflect the initiative's brainchild of consolidating and strengthening faith in sustainable print products.