emco Group celebrates 75 years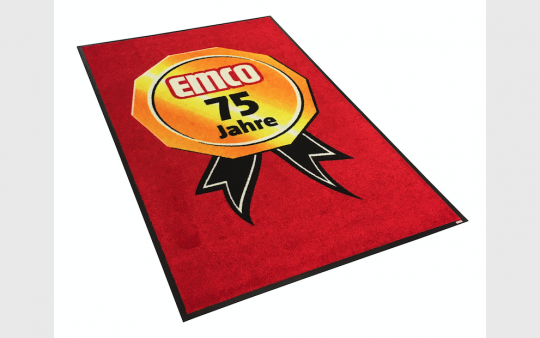 This year, the emco Group can look back on three quarters of a century of family tradition shaped by the founder and former Mannesmann chief designer Erwin Müller. In 1945, he laid the foundation stone for the family business in Emsstadt Lingen near the Dutch border. The company has continuously developed into a medium-sized international enterprise with over 1,200 employees in Germany and abroad. For decades, the emco Group with its strong brands emco Bad, emco Bau, Novus Dahle and emco Roller has been synonymous with well-being, quality, mobility, dynamism and innovative spirit.
The start of the well-known office brand Novus Dahle was the "Novus 53" stapler invented by Erwin Müller in 1953. Today, the division stands for office technology, multi-user systems, fastening technology and Dahle Office with its document shredders and cutting machines. Gradually, production facilities such as a stamping shop, tool shop, paint shop and electroplating shop were built. Sanitary equipment fittings were added to the assortment to improve the utilisation of the machines. Bathroom accessories such as glass, paper and towel holders became the second mainstay of the company – today bundled under emco Bad.
In 1959, Erwin Müller laid the foundation for the production of entrance mats which made the company the market leader today. He disliked the simple cover gratings for the floor convectors in his own home at that time. This resulted in the construction of walk-on roller gratings and later the production of sturdy metal gratings. The floor mats, initially in a floor recess in front of the entrance to the house, were further developed as entrance mat systems, carpet mats, swimming pool gratings and roller gratings, and today form the emco Bau division, the products of which are also successfully used as individually designed promotional products.
Since 2011, environmentally friendly emco electric scooters have complemented the emco Group's product range. On a business trip to China, the son of the company founder, Dipl.-Ing. Harald Müller, and his Managing Director of Technology, Christian Gnaß, noticed the silent, odourless electric scooters. The vision of building these vehicles in their own factory and introducing them in Germany became the fourth pillar of the emco Group with the emco scooter division. 
Today's Managing Director Christian Gnaß now has the difficult task of guiding the international company through the corona crisis in the year of its 75th anniversary. In doing so, he can count on the utmost support of the committed and reliable employees from the office, bathroom, construction and electric scooter divisions, who, as the company says, are supporting each other especially during the critical corona pandemic. "Despite the fact that the world is still in the midst of health risks and economic hardship, the motto at the emco Group is: We continue to offer advice, manufacture and deliver as usual", emphasizes Christian Gnaß. https://www.emco.de/