German Sustainability Award 2021: KLIKK cutlery set nominated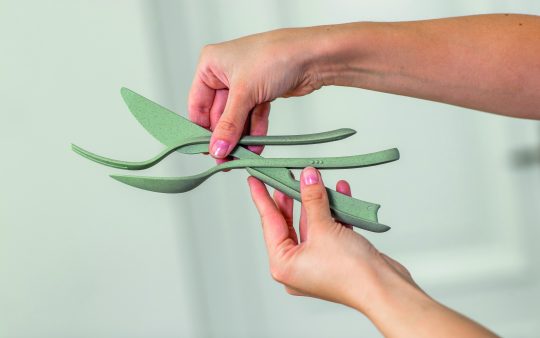 The KLIKK cutlery set from koziol has been nominated for the first time for the German Sustainability Award 2021 in the design category. This competition is Europe's most significant award for ecological and social commitment and recognises solutions that make an important contribution to a sustainable society.
KLIKK convinced the jury with its resource-saving and sustainable production in Germany as well as the new ORGANIC material. KLIKK is an example of how koziol's activities in the field of sustainability are now a common theme throughout the company. The new cutlery is also an example of sustainable development work in its application, replacing many hundreds of disposable cutlery items during its service life.
"The new cutlery is state of the art in every respect. Especially in light of the current social discussion, we see it as our task to find particularly beautiful, intelligent and durable reusable solutions," says company owner Stephan Koziol. "The cutlery set is the best example of how good design can create lasting value for society".
The German Sustainability Award has been awarded since 2008 in close cooperation with the German government and is a cornerstone of the German Sustainability Strategy. It is awarded to trend-setting examples of how ecological and social change can be achieved more quickly. Evaluations are made in eight categories: Companies, architecture, design, cities and municipalities, packaging, research and next economy. The award is strongly oriented towards the goals of Agenda 2030 and therefore evaluates the entries primarily according to their impact on the transformation fields of climate, biodiversity, resources, fairness and society. www.koziol.de