Rastal and BeviClean pool expertise in air-cleaning technology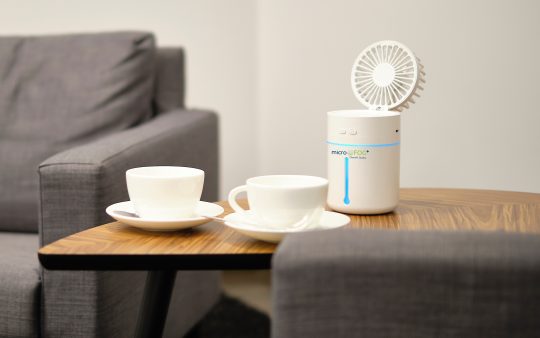 In order to be able to visit restaurants, bars, theatres, opera houses and concert halls again in the coming years, maximum protection against Covid-19 is essential. Two well-known companies from the beverage industry, RASTAL GmbH & Co. KG and BeviClean GmbH, will in future be pooling their expertise and from November 2020 will be jointly marketing a future-oriented air-cleaning technology: NeutroDes AIR. In combination with matching bigFOG, miniFOG and mircoFOG fogging systems, this holistic concept reduces almost all viruses, bacteria and other pollutants from the air and on surfaces – especially coronaviruses.
It has been proven that viruses and germs are transmitted particularly quickly in poorly ventilated rooms and thus represent an increased risk. To close these hygiene gaps, RASTAL and BeviClean offer a solution in the form of an aerosol-supported air and surface system including ultrasonic evaporation technology. With the disinfectant called "NeutroDes Air", the room is hygienised by misting and the surfaces are disinfected. The holistic concept reduces infectious aerosols in the room air and makes them harmless. Produced in Germany without alcohol, surfactants and aldehydes and demonstrably odour-neutralising, tasteless and food safe, the substance was rated "very good" in surface tests performed by experts of Dermatest GmbH.
In its search for innovative technologies and new fields of activity, the globally operating player RASTAL with headquarters in Höhr-Grenzhausen is convinced of the diverse application possibilities of this all-purpose weapon against the coronavirus. "RASTAL supports the life of the new normality with a practical concept during the pandemic, but also aims to achieve maximum hygienisation in the period thereafter. With BeviClean, RASTAL has partnered a real hygiene professional that has been synonymous with individual cleaning concepts and innovative solutions for hygienic dispensing systems for over 30 years. Thus, two strong partners ideally complement each other's know-how", explain Managing Partner Raymond Sahm-Rastal, and Sascha Mücke, Sales Director of RASTAL. "With our system solutions, we would like to once again provide a safe environment for guests, restaurateurs, as well as other industries. And not only during the pandemic, but also in the future", says Dirk Bersch, Managing Partner of BeviClean GmbH. www.rastal.com