Social Initiative: And the nominees are...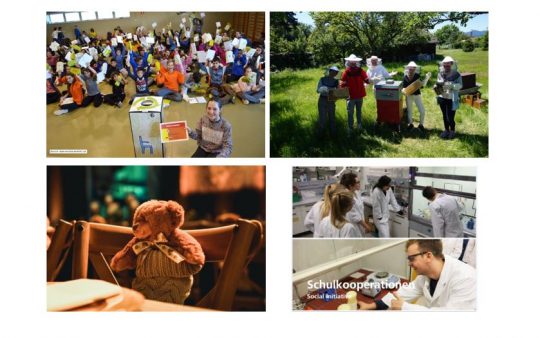 They attach particular importance to social interaction, whether in their own workforce, in their environment or in aid projects and social institutions. They support with additional offers that go beyond the standards and show full commitment to the social and cultural community. These are the nominees in the category "Social Initiative".
BIC GRAPHIC EUROPE S.A. was nominated for its initiative "TERRACYCLE PATROL". TerraCycle puts an end to the myth of non-recyclable waste by recycling it. Back in 2011, BIC and TerraCycle launched the first programme to collect and recycle pens in Germany. In 2020, TerraCycle and BIC GRAPHIC EUROPE S.A. again launched a project to recycle used pens, this time at schools in Tarragona (Spain). The project aims to help raise interest in sustainability among students by collecting as many pens as possible in the form of a competition.
Karl Knaur KG was nominated for the initiatives day-care centre "Fliegerkiste – Karl Knaur hebt (sich) ab" and the environmental project "Bienenweide". In order to contribute to the compatibility of family and work, Karl Knauer, HYDRO Systems and the municipality of Biberach founded the "Fliegerkiste" daycare centre in 2011. Since 2020, Karl Knaur has also been actively involved in nature conservation and environmental protection and has established a 2600 square metre bee pasture in cooperation with Bienenmartins Beekeeping.
True to Albert Einstein's motto: "Learning is experience. Everything else is simply information", Schneider Schreibgeräte GmbH makes it its business to impart practical knowledge to schoolchildren and has already signed three school cooperation agreements to this end. The company's goal is to support young people in their career orientation. The company wants to replace dry theory with practical experience and thus arouse interest in technical and scientific professions.
uma schreibgeräte was nominated for the Bear Child campaign. Every year during Advent, donations are collected for a child with disabilities from Hausach or the surrounding area. Anne Maier started the campaign in 2003 when she sold 2000 teddy bears during Advent in Hausach for the benefit of the children's cancer clinic in Freiburg. Since then, the family of a child from the region has been supported every year. This is how the term "bear child" came about. For every teddy sold during Advent, ten euros are donated to the Bear Child. For years, this campaign has become a firm tradition at uma Schreibgeräte, which actively supports it by buying bears. The campaign, which is known beyond the local borders, is also supported by the uma employees and the bears are part of the traditional uma annual celebration every year.