Puzzle technique for efficient patterns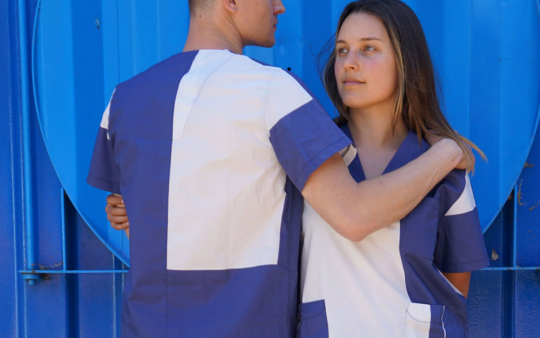 Zero-waste is also a buzzword in textile production. With A020, the waste-free production of clothing becomes playfully possible.
We now know why sustainability is important. But how can it be implemented in industrial processes? Designer Danielle Elsener is looking into this very question. For her, saving materials is a driving force behind the topic. That's why she has been working on zero-waste as a design model for years. A penchant for solving puzzles and unbridled playfulness are her number one tools in solving the fashion industry's biggest problems. Her approach: a sophisticated system for creating highly efficient patterns. In this way, she reduces waste and sets new standards for the fashion and textile industry.
As part of her thesis at the London College of Art, she developed a toolbox that allows designers to approach a piece of fabric like a puzzle. Her A020 system is based on a series of pattern templates that are transferred to the fabric using a stencil. This allows designers to create patterns without any waste.
A jigsaw puzzle as a model
A jigsaw puzzle of individual pieces is created on the fabric in which even the smallest pieces of fabric are used for the later garment. Danielle Elsener's aim is to use all the available material without compromising on design. Here in the video she explains how to work with A020.
The possible savings potential of her idea is great and promises a commercial profit in addition to the conservation of resources. "A standard garment wastes on average 15 per cent of the material. Zero-waste design using the A020 method saves resources and money for everyone involved without sacrificing design," Danielle Elsener comments on her idea.
Winner of the Activate Movement Program 2020
The potential of the work was also seen by the makers of Activate Movement, a sustainability programme of the mineral water brand Evian. Here, young designers and creatives aged 18 to 35 can submit projects and solutions for reducing waste, minimising energy consumption or recycling. A020 convinced the jury and this year's prize of 50,000 euros went to Danielle Eisener, who plans to use the money to set up a learning and networking platform. Here, the exchange about zero-waste design should improve existing systems and produce new industry standards for the textile industry.
Open-source patterns for medical staff
In the context of the pandemic and to support medical staff, Danielle Elsener has made a design for a zero-waste pattern for medical gowns available for download on the web. Although her decode set is currently not officially approved for medical use, the project shows ways to bring more sustainability and less waste into manufacturing. It thus provides an active response to the pressing issues of our time.
Pictures: Danielle Elsener