"We Make You Feel" – Video Presentation of New Products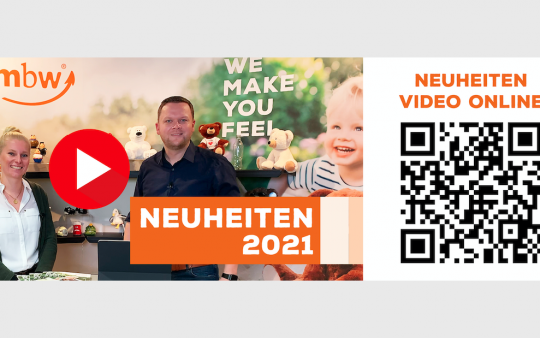 mbw®, a specialist for high-quality, likeable promotional products, is evoking nothing but positive feelings with its 2021 collection. The theme of this year's catalogue is "We Make You Feel". The company's products from Wanderup, which is near Flensburg, in northern Germany, will put anyone in a good mood with their cheerful, likeable and cuddly qualities. Thanks to their special service package, this experience is now easily attainable. At the link https://youtu.be/O8USxosHWVU, CEO Jan Breuer and customer representative Vanessa Stark present the new mbw products.
The popular Schmoozies® assortment is being expanded to meet consumer's needs for products honouring new occasions, sectors and subject areas, such as graduation caps, firefighter's helmets or seagulls. The Schmoozies in the MiniFeet® series are especially enchanting with their cute looks as well as the practical microfibre on their underside, which creates a shining display. Also new to the Schnabels® family: the bad weather duck, which puts everybody in a rainbow mood with its charm. Sun worshippers will be delighted with a new ducky in our flower design. The natural rubber duckies made from natural and renewable raw materials will ensure sustainable growth. The new generation of ducks is made without crude oil, protects the environment and captivates with its unique look and feel.
The Squeezies® classic, Herr Bert®, also has a lot going on this year. This squeezable fellow has once again discovered new exciting jobs for himself this year. This time, Herr Bert is stepping into the roles of an SEO expert and a pastor. His female counterpart, Berta®, has now successfully graduated and is starting her career as a consultant. Finally, the new Team Spirits from our MiniFeet series combine the added values of the Schmoozies screen cleaners and Squeezies anti-stress products into one sweet little chap with character. The combination of the squeezable anti-stress material and high-quality microfibre on the underside, which cleans flat surfaces as if it were magic, make for a durable advertising medium. More information is available at: www.mbw.sh