These are the most popular merchandising products in February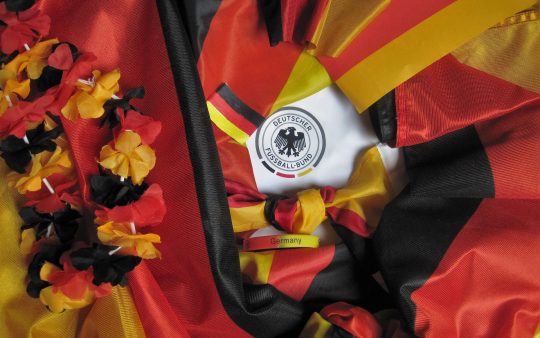 The boundaries have long been fluid. Whether it's sportswear, the hoodie, the mug or the beach flag: some use them as advertising media, others use them to put together the product range for their merchandising. February is Merchandising and Licensing Products Month for us, so we asked our Sourcing Team what the five most sought-after products from this area are. Here is the answer:
Sporting events draw and quickly turn the simple promotional item into a merchandise item for a club, a sport or a nation. This even applies to the pencil. The fan jersey pencil attachments from SIPLAST Siegerländer Plastik GmbH (item no.: 20.0601.0003) are among the top 5 most sought-after merchandising products in the PSI Product Finder. They are very flat and are therefore ideal as mailing boosters. In addition, they can be printed all over and as desired. As standard, they fit on the conventional pencil, but they are also available in special shapes.
Picture: SIPLAST Siegerländer Plastik GmbH
Especially in Germany, we love them: our bathing slippers. No wonder that many brands have now also included them in their merchandising portfolio. The bathing slippers from GC Footwear GmbH (item no.: BL-1006), for example, have an anti-slip PVC sole and a PU bridge that can be refined. For German production, with refinement via sublimation printing, each pair can be personalised with the wearer's name, player number or similar.
Picture: GC Footwear GmbH
For many, the sporting highlight in 2021 will be the European Football Championships: the jersey frame with the DFB EM home jersey from E&H Design Kunststoffverarbeitungs GmbH (item no.: 06) is therefore also one of the top 5 most sought-after merchandising products. The jersey frame in 3D look is available in black and white and comes with two interchangeable back panels in black and white. A foam insert ensures the perfect presentation of the favourite jersey.
Picture: E&H Design Kunststoffverarbeitungs GmbH
Fan articles also find their perfect use at sporting events. The "Fan" Germany air trunk from elasto form KG (item no.: 07442022-00000), for example, is made of plastic and has a long paper trunk in black, red, gold and is one thing above all: loud when cheering on your favourite team.
Picture: elasto form KG
For years, no event with a good atmosphere can do without them: The clapping sticks, such as those available from Samoa GmbH. Here, merchandising is even combined with another top trend: Sustainability. The BIO-Bang® Sticks (item no.: 5015) are certified and made from European GMO-free corn starch. A straw for inflating the sticks is included in the packaging. This is made of PLA and is also certified according to the European standard EN 13432. This means that not only the BIO-Bang Sticks, but also the included straws are 100 percent biodegradable, compostable and even reusable. This also makes them one of the top 5 most sought-after merchandising products in February.
(Picture: Samoa GmbH)