Individually printed packaging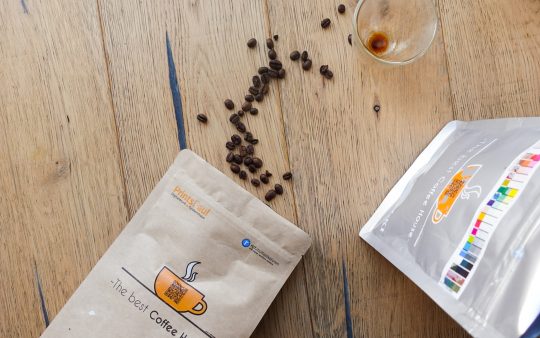 Consumers are more discerning than ever today, meaning it is vital that companies are aware of exactly what customers want.
The notion that you can satisfy everyone with a single product is no longer valid. Today, consumers expect a company to be aware of their individual preferences and have a product available that has been tailored to suit their personal needs – at best, also offering added value on top. Nowadays, it is all about catering for individual desires. Mass merchandise has lost its appeal.
This is reflected by the increased range of individualisation options that more and more suppliers offer nowadays. It can range from a pack of vitamins that covers your personal nutritional needs through to a personally selected box of chocolates, or a pullover that has been knitted from the wool of a sheep personally chosen by the customer. The number of opportunities for product customisation is immense. Modern production and working processes mean that making one-off articles is now affordable. But even small production runs are also popular among consumers. Special editions, limited series or highly sought-after manufactured products also give customers the positive feeling that they are holding something special in their hands.
Packaging attracts
Custom packaging that underlines the uniqueness of a product or a specially produced small series underscores its value and appeals to consumers' sense of quality. It is the packaging that catches the consumer's eye, providing the interface between product and customer and conveying that rush of emotion that awakens interest.
Many manufacturers and retailers, however, are still not aware of the opportunities presented by individualising packaging for small production runs. Digital printing has opened up a whole plethora of new possibilities when it comes to finishing labels or direct printing. This is where Paul Arndt comes in. The CEO of the PrintsPaul systems househas been involved in printing and finishing since 1998 and is specialised in providing knowhow in these particular areas.
The story behind the content
"Individually stylised packaging tells the story behind the content. And this story has to inspire customers and touch them emotionally. When it works, it is the first step towards ensuring customer loyalty and the best tool for generating new customers," says Paul Arndt. Manufacturers and retailers are often unaware of just what can be achieved in this area. "We see ourselves as pioneers, shining a light on how printing technology works, what materials and colours are available and just what printing effects we can achieve with individual packaging."
PrintsPaul advises and offers training at different levels. As well as selling printing machines, Paul also helps in developing packaging solutions. In fact, this service has become one of the mainstays of his business in the meantime. "It is important to me that a solution offers our customers tangible benefits. That is why we provide a printing service to those companies who do not want to buy their own machine. We print everything from prototypes, pilot runs, right through to production packaging." Paul Arndt stands by his customers, supporting them with solutions that can also be realised on machines with only a low level of investment.
Stand-up bags and direct printing
Paul's current project involves stand-up bags that are finished and customised using direct printing. "Manufacturers and producers buy industrial products and then brand them with a stamp or manually applied label. This is a time-consuming and laborious process. We searched and found a solution that permitted the bags to run seamlessly through a digital printer, even with a fastener and folding bottom. This means that a dedicated run of stand-up bags can be printed for a specific product." PrintsPaul's customers then fill their printed bags with roast coffees, herbal teas, spices, sweets, flower seeds and a lot more besides.
As an active rgf member, Paul Arndt not only trains his own customers and interested companies in digital printing and packaging, he also shares his know-how and provides technical talks to the printing industry.
Image: PrintsPaul