PSI, PromoTex Expo and viscom make synergies visible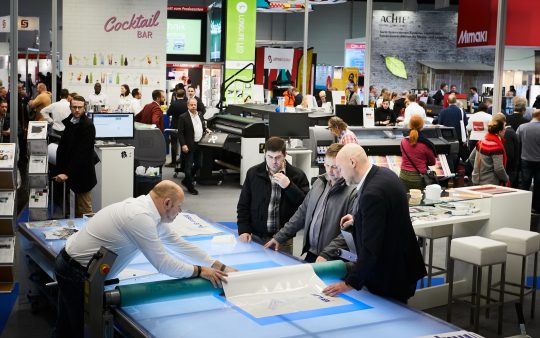 – Premiere: Digital Friday extends the trade fair experience
With a hybrid concept and on a new date, PSI, PromoTex Expo and viscom are bringing the world of advertising and selling together again after more than a year – on-site and digitally. The new concept of the three trade fairs is to reach visitors worldwide from 18 to 20 May. Digital Friday on 21 May extends the event by one day.
"Corona hit our industry hard," emphasises Michael Freter, Managing Director PSI. "Even if a swift and complete return to the old normal still seems a long way off, I observe a great optimism with which our industry is defying the crisis. We can also sense this in the preparations for the trade fair in May."
Exploiting synergies
The synergies between promotional products, sustainable textiles and new finishing techniques are particularly underlined by the three trade fairs in Düsseldorf. PSI, PromoTex Expo and viscom are moving even closer together in the new exhibition halls 8a and 8b, making the interlocking of the sectors more visible and thus creating added value for exhibitors and visitors.
Experience finishing
Finishing is a decisive factor in turning a product into a promotional item. The new 'Special Finishing' special area in Hall 8a will show which technical processes are particularly suitable for which requirements. There, machine and material manufacturers will demonstrate in joint application processes what is important, where the advantages of various finishing options lie and how they can be optimally used.
For the first time in May, several exhibitors will also be present with different offers in the outdoor areas of the exhibition centre. There will also be opportunities for visitors to take a break with food and drinks.
Live – on site – digital
Industry representatives, visitors and exhibitors from Germany and abroad will not only meet on site in May, but also online. Digital offers for all three fairs will enable even those who are unable to travel to Düsseldorf to participate. In addition to live broadcasts, recorded content will also be available on request at any time. The digital services are, of course, also available to visitors on site; Digital Friday also offers the opportunity to use the content beyond the trade fair.
Access to the digital trade fair is barrier-free. After a one-time login, users have access to an extensive supporting programme, the exhibitor list and the product presentations and can vote for the public's favourite via the PSI Product Finder.
The highlights of the digital programme include PSI TV, which broadcasts product presentations, interviews with industry experts and panel discussions from Hall 8b. Exhibitor innovations, practical workshops and training courses can be followed online.