The sock monster in the fight against the pandemic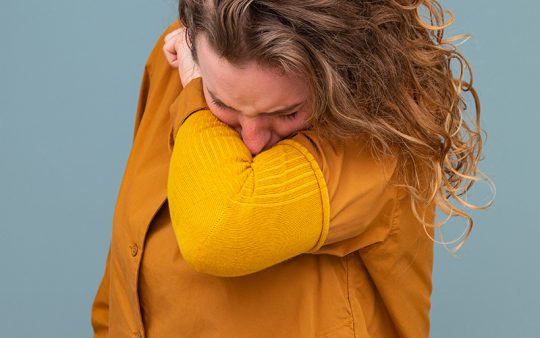 The phenomenon of socks disappearing without a trace is known all over the world, and a wide variety of explanations are circulating everywhere, from sock-eating monsters to technical washing machine defects. Various defence mechanisms, such as button solutions that unite pairs of socks before the wash cycle, are in circulation to counteract the global losses. But even these aids are only partially successful. Time and again, only one half of the pair remains and henceforth ekes out a dark existence in a drawer.
The Dutch designers Daniera ter Haar and Christop Brach from Raw Color have dedicated themselves to the single sock and its meaningful use in the pandemic. Actually, their focus is on product design, graphic design and photography, as well as on the connection between the disciplines. The materialisation of colour plays a crucial role.
The makers of the "Elbow Sock" project have their sights set on individual socks. Their idea: The single socks become a handkerchief for the arm. Because since the Corona pandemic, sneezing and coughing into the crook of the arm are the declared cold etiquette. Hands and handkerchiefs are frowned upon and the bent arm is the recommended means of avoiding infection and spreading viruses.
Quickly converted into a handkerchief
To make the single socks ready for use, remove the toe cap with scissors and then slip them over the arm. After use, simply pull it off and wash at 60 degrees. The handkerchief hack is ready.
The designers' idea has its origins in the Dutch people's use of mouth-nose protection. In the early days of the pandemic, as in many other countries, there was a supply shortage of medical and FFP2 masks. Those that were available were better used where they were needed most – in hospitals, nursing homes and homes for the elderly. Few to no masks were worn in the general population in Corona's early days. Sneezing etiquette into the crook of the arm was one of the main recommendations against the spread of the virus. This is why the elbow sock has a special significance according to the two designers of Raw Color. In addition to the functional aspect, it is a statement that raises the precautionary awareness of its wearers and serves as a visual reminder for Corona fair sneezing and coughing.
Improving health worldwide
Elbow-Sock is part of Create Cures, a public health development project started by a group of Chinese designers. The Create Cures web space presents design approaches, ideas and prototypes that aim to improve people's health and the prophylaxis, diagnosis and treatment of diseases worldwide.
Frank Chou, designer and founder of Create Cures explains: "We believe that the coronavirus will soon be over, but as humans we have to face other possible public health challenges in the near future. As designers, we want to redefine what design is and what we as designers can contribute to it. Create Cures is designed to be a long-term, non-profit project. It is just a beginning. We hope more designers, the advertising industry, media, companies and organisations will join us and design projects for this new world."
Images: Raw Colour & Create Cures