Hand sanitising in wrap-design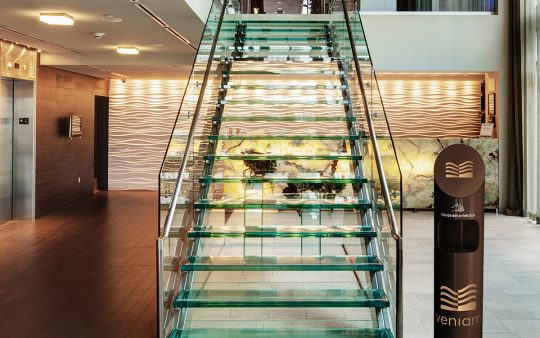 "Smart Disinfection" is a wrapping competition which aims to improve the appearance of disinfectant dispensers long term.
Wrapping offers a multitude of ways of protecting or branding an object. It is a technology that has already been widely used in the automotive industry for many years, and the Car-Wrapping Cup is an integral part of viscom. Wrapping or foil-coating has, however, only emerged as an option in many other areas fairly recently. It is increasingly used for branding retail outlets, for example. If the occupant of a store changes or is rebranded, the branding on the shop front can be altered quickly and economically. In fact, it has even become quite common in the field of interior design to foil-coat kitchen fronts or pieces of furniture in the latest colours and add individual applications in the meantime.
Form and function in foil-coating
Wrapping technology also gave Manuel Potter, CEO of KOMPAGNON Communications, a sudden brainwave. The specialist for advertising solutions and advertising technology wondered if wrapping could improve the appearance of hand sanitisers to help create a new visual design standard for the entrance areas of offices, retail outlets, hospitals and public buildings.
The inspiration came to him before the second lockdown as he kept coming across disinfectant dispensers that looked distinctly unattractive. As Manuel Potter says, "The design really was woeful, and this is what inspired me to develop a product which is both functional and also looks good. I have always been interested in the opportunities presented by foil printing, so it didn't take long for me to set the ball rolling."
Manuel decided to launch a creative competition to increase awareness of the new design dispenser quickly. The goal was to design a fully wrapped free-standing, contactless hand sanitiser. Designers, agencies, advertising technicians and wrapping experts will be called upon to submit creative ideas for a particular theme. "We are currently putting together the content and conditions for eligibility," says Manuel Potter. A few initial ideas have already been drawn up. Broad areas include themes such as breathing deeply, hope, fighting corona and restart 2021, providing a rough direction for any submissions.
An expert jury from the advertising technology and graphics industry
An expert jury will choose the winning design intended to enhance the looks of free-standing hand sanitisers. The dispenser will be donated to a charitable organisation at the end of the competition. Manuel Potter has already received a firm commitment from Christine Moosmann of the new Grafikmagazin, Rüdiger Maass, f:mp (the media production trade association), and also from a member of the editorial staff of the trade paper Werbetechnik. The competition will be officially launched in March. It will be possible to enter the competition from the middle of the month through to the beginning of April. Winners will receive attractive monetary and material prizes from competition sponsors.
Competition partner Bernd Gröner is already looking forward to seeing the creative efforts: "Smart disinfection is a cool idea. I can't wait to see the design proposals because it really is a creative challenge." The free-standing dispenser that Manuel Potter has selected for the competition is well-suited for full wrapping, but it would also work well with partial wrapping that could be used to emphasise the slender stand design. "I really can't wait to see the design proposals which will then be printed out for wrapping. For me, a free-standing hand sanitiser should catch your eye as soon as you enter a room or space and then impress you from close range with attractive details. It is important not just to have a feel for graphic design, you also need to understand the impact of design on an object."
Competition details, rules governing eligibility and the different deadlines are all available here.
Image: KOMPAGNON communications