Certified surgical masks with antiviral virus blocker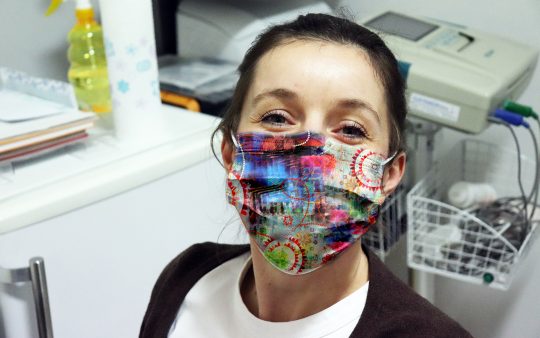 What happens when a specialist in textile printing meets COVID-19? For Joachim Rees of Multi-Plot, the answer was obvious. He uses his knowledge of the possibilities of equipping textiles with virus- and bacteria-destroying coatings and launches TexShield. The brand is all about mouth and nose protection and producing a mask that protects against viruses as safely as possible.
Mothballed machine back in use
A textile impregnation machine from Mimaki's Rimslow series, which had been mothballed and was eking out an existence in the Multi-Plot basement, plays a major role in the realisation of his idea. It was reinstalled and is now in use around the clock for coating masking fleece with HeiQ Viroblock technology. Together with the medium-sized machine manufacturer PRO-tection, Joachim Ress now produces certified surgical masks with antiviral virus blockers under his "TexShield" brand. With Alexander Liese from PRO-tection, Joachim Rees was in exactly the right place with his coating idea. Since the Corona crisis, the company has been producing around 60,000 medical masks a day. It was a good fit and a cooperation between the two North Hessian companies was quickly decided.
How the antiviral textile technology works
HeiQ Viroblock is an antiviral and antibacterial finishing product for all types of fibres, which is used in many different areas – from sportswear to home textiles and from furniture to air filters. The fabric treatment is suitable and particularly effective for medical protective fabrics, such as nonwovens for masks. The appropriately equipped nonwovens enable the binding and destruction of bacteria, viruses and fungi of over 99 percent within minutes on their surface.
The coating consists of silver and vesicle components. The silver ions contained destroy viruses and bacteria on the surface of the fabric. Like a magnet, the positively charged silver attracts negatively charged bacteria and viruses. These are surrounded by a protective coating which is broken open by the vesicles – small protein vesicles. Once the viral coat is destroyed, the silver ions can attack and continue their work. The effect of the coating on the SARS-CoV-2 virus has been proven and successfully tested by the Peter Doherty Institute for Infection and Immunity in Mel-burne.
The video shows how the coating works on the textile surface.
This is how the masks are equipped
TexShield masks with HeiQViroblick impregnation are based on a non-woven surgical mask to EN 14683:2019 Type II, have medical approval and CE marking from a German testing laboratory. They have been tested for their antibacterial effect according to ISO 20743 and for a strong antiviral effect according to ISO 18184. HeiQ Viroblock is dermatologically tested and safer for the skin. The coating works without nanotechnology and can withstand up to ten washes at 30 °C. The coating has also been tested by a laboratory. This has also been tested and confirmed by a testing laboratory, but no guarantee is given for the effectiveness of the mask after washing. The Tex-Shield masks are composed of a combination of different micro-filter fleeces that clean the air in a filter cascade. They offer optimal wearing comfort, breathability and a secure fit. In addition to masks for adults, medical masks for children and an anti-fog version for spectacle wearers have also been fully developed.
Not only safe, but also beautiful
In addition to producing the best masks, Joachim Rees also wants to make the most beautiful masks. So that people in public no longer look like doctors or medical personnel, he offers a variety of colourful styles. The design is a digitally printed outer fleece with Ökotex certified colours. Thus, the world with a mask should not only be safer, but also a little more colourful.
Image: Multi-Plot