A protective shield for everyday handles and handrails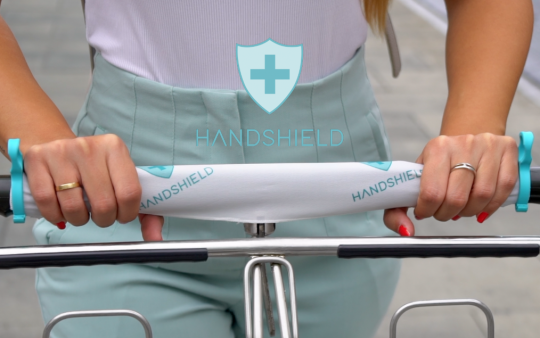 Whether we are talking about the shopping trolley at the supermarket or the grab pole on the bus – viruses and bacteria may be lurking anywhere. A cloth for your handbag is meant to prevent infection.
The Corona pandemic and rapid spread of the virus have changed the way many customers behave. Many now avoid touching handrails or handles in public places. A study has managed to quantify the extent of this behaviour. Before the outbreak of the pandemic, 12.1% of people interviewed were sceptical about how hygienic supermarket trolleys were. This figure rose to 27.4% during the first lockdown in Spring 2020. Now, more than 40% of people avoid touching supermarket trolley handles because they fear a high viral and bacterial load there. This is the result of a survey conducted in Germany and Austria by Marketagent in August 2020 in which 1000 people took part.
Start-up develops a hygiene-protective cloth
This change in behaviour also struck the founders of the Spanish start-up company Handshield. They noticed when out shopping that customers avoided directly touching supermarket trolley handles by using handkerchiefs, pulling down the cuffs of their jackets over their hands, or pushing trolleys with their elbows.
The entrepreneurs immediately saw this as an opportunity for a new product that could alleviate people's concerns regarding the transmission of viruses and germs. Any solution would need to be portable and prevent infection. The result of their endeavours was "Handshield", a protective covering that can be attached to all kinds of handles by means of two clips.
Antibacterial coating offering certified protection
Handshield consists of a rectangular cloth with a clip on each side and covered with an anti-bacterial and anti-viral coating. This means that you can simply fix the protective cloth in the right position on the handle of a shopping trolley or on a grab pole on a bus. Once you have finished using the cloth, the clips are easy to release and you can pop your Handshield back in your handbag.
The special coating kills viruses and germs and the manufacturer guarantees that no viruses or bacteria can be transmitted from the cloth to your hands. The benzalkonium chloride coating has an antiseptic effect, neutralising all traces of bacteria or viruses on the underlying surface. The active agent used in the product is SI BAC-PURE which has been approved for use in combatting the corona virus by the US environmental authority EPA. It is also REACH-registered and contains no harmful metal ions or substances included in the EU's Candidate List of Substances of Very High Concern (SVHC).
Can be washed up to 100 times
Handshield is meant to have a useful life of about a year and 100 washes. Its anti-microbial qualities are retained throughout washing cycles. Because the anti-microbial finish of the cloth kills viruses, bacteria and fungi, it only needs washing at a temperature of 40°C for 30 minutes. It is still effective after 100 washes and has a confirmed virus reduction of 99.98%.
Whether the product manages to establish itself will no doubt depend upon how the pandemic continues to develop. If the situation eases, people will probably attach less importance to clean surfaces again. However, perhaps people will continue to observe greater hygiene standards as good hand hygiene also protects against other infections. According to the Robert Koch Institute, there have been far less cases of influenza in Germany in the 2020/21 flu season than in previous years.
Image: Handshield