SPRINTIS: Building up an international sales team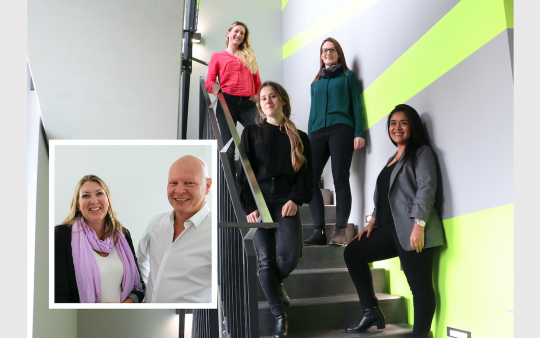 As an accompaniment to expansions of European sales markets in recent years and further expansion plans in the near future, a new sales team for international activities has been formed at SPRINTIS – the Würzburg-based specialist that supplies printing and promotional needs. Jointly and under the direction of Manuela Bauer, Regional Manager Europe, six employees are developing both existing and potential international customer relationships. 
To provide optimum support to the wholesaler's regular international customers in their respective local language, SPRINTIS has set up its own in-house team. Besides operational distribution in the international region (outside D-A-CH), this team's central tasks include expansion projects plus the planning and steering of all sales activities in international markets. Major objectives are the development of country-specific potential analyses and sales approaches, as well as the acquisition of improved market knowledge in close collaboration with product management. "It is exciting to see the very different ways some of the various target markets behave and react to being addressed. For that reason, we have our country specialists here in the team and will be welcoming new additions in future," reports Manuela Bauer.
Currently, the BeNeLux sales office comprises Paul Spitzen and Frencis Hoogmoed as competent contact partners on location. In the Würzburg head office, Carena Barth and Ana Quesada Henares are on hand with help and advice in French, Spanish and English. Maria Victoria Marin Ichuc, the newest team member, is responsible for major international customer business and identifying promising potential customers in that segment. "As a growth factor, internationalisation is playing an increasingly important role for us. With the International sales team, we have fulfilled all the requirements for performing highly effectively cross-regionally as well, and providing our international customers with the excellent service we've become known for," says Christian Schenk, managing director of SPRINTIS.
SPRINTIS has several sales branches in the German-speaking region, as well as a branch in the Netherlands that celebrates its fifth anniversary this year. In addition to the existing online shops www.sprintis.de (Germany), www.sprintis.nl (Netherlands) and the English-language shop www.sprintis.eu, within the last year and a half the wholesaler has launched three more online shops with www.sprintis.ch (Switzerland), www.sprintis.fr (France) and www.sprintis.es (Spain). An Italian shop will be going online shortly. Expansions into further countries to open up new markets are in the planning.
Photo: The International team (from left): Manuela Bauer, Regional Manager Europe; Ana Quesada Henares, Account Manager International; Carena Barth, Account Manager International; Maria Victoria Marin Ichuc, Area Sales Manager International. Small photo: Paul Spitzen, Area Sales Manager BeNeLux; Frencis Hoogmoed, Sales BeNeLux.