Enchanting in the colours of the rainbow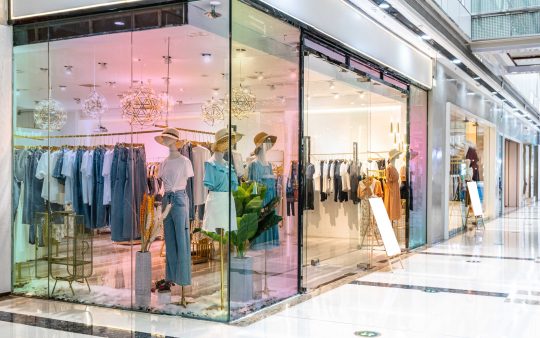 Eye-catching everywhere. Dichroic films attract attention with their magical colour effects.
The shop window of a shop is an important element in the marketing strategy of retailers. The window fronts are the best advertising spaces in the shopping miles in the street scene to communicate new products and offers, to stand out from the competition and to strengthen one's own brand in the neighbourhood of other shops. On the glass surface, it is crucial to attract attention and lure customers into the shop. Windows usually offer ample space for foil decoration.
Dichroic stands for effective staging
Dichroic means showing colours from different directions. The corresponding foils stand for precisely this effect. On surfaces, they change their colours luminously as they pass by, depending on the viewing angle, background and light irradiation. To achieve this interplay, the foils are coated in several layers. This creates optical interference layers that allow light to pass only in certain wavelengths and colours and reflect other frequencies, resulting in the characteristic rainbow effect. On shop window fronts, such films are an eye-catcher that attracts customers.
But dichroic films are also used indoors on wall and glass surfaces. In rooms, they liven up with their colourful effects and can be used specifically as design elements – for example on partition walls, glass conference rooms or as visual accents in interior design. They are also suitable for staging products on decorative elements or product displays.
Visual accents in all colours
The colour palette of the films is wide and ranges from translucent, cool tones in the complete colour spectrum to warm tone variations. On walls and surfaces, the films create a fluid colour change when the viewing angle or lighting conditions change; when applied to glass, the effects are visible on both sides.
Suitable for indoors and outdoors
ASLAN (link https://aslanfolien.de/aktuelles.html) offers two transparent coloured and four opaque versions. The transparent, self-adhesive film ColourShift ASLAN SE 70 is a 110 µm thick, glossy polyester film with a special coating. Both versions can be used indoors and outdoors for plotting or large-area applications on smooth surfaces such as shop windows, acrylic or sales displays. The transparent versions Solar or Nebula create the same flowing colour effects as the four opaque versions Aurora, Alpha, Andromeda and Plasma of the ColourShift series ASLAN SE 71.
The application to the glass surface is done by wet bonding and can also be done on built-in glazing without any problems. To protect against scratches, the film surface is coated with a polyester coating. When applied vertically without direct sunlight, its service life is up to seven years.