How to get through April safely: The most popular workwear products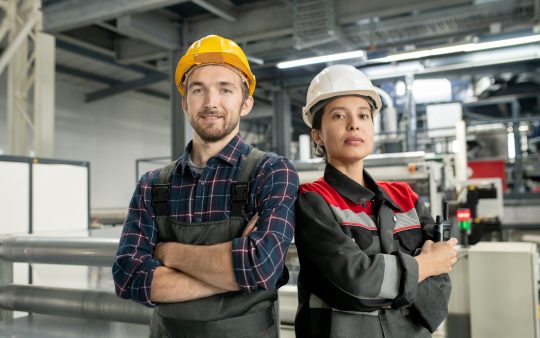 It has to be hard-wearing, functional and durable: Workwear is one of the biggest sales markets in the promotional products industry. From safety helmets to waiters' aprons, workwear can be personalised in many ways, protecting your own staff and serving as a long-term brand ambassador at the same time. Since April at PSI is all about workwear, we have picked out the most popular five workwear items in April's PSI Product Finder for you. Vom Sicherheitshelm bis zur Kellner-Schürze lässt sich Arbeitsbekleidung vielseitig personalisieren, schützt das eigene Personal und dient gleichzeitig als Langzeit-Markenbotschafter. Da der April beim PSI ganz im Zeichen der Workwear steht, haben wir für Sie die beliebtesten fünf Workwear-Artikel im PSI Product Finder des April herausgesucht.
Trend 1: The polo is the evergreen in workwear
(Photo: Hultafors Group Germany GmbH, Article no.: 2715)
Our first product could not be more classic: In various fits, colours and made of different materials, the polo shirt is one of the all-rounders in workwear and offers over 400 hits in the PSI Product Finder. This shows: The polo shirt should not be missing from any workwear range, because hardly any other product is so versatile and communicates the advertising message in a discreet to gaudy way.
Trend 2: Assembly gloves for a secure grip
When every move has to be perfect, assembly gloves are the answer. Made of different materials, even available seamless for more comfort, and thanks to special coatings and patterns especially grippy on smooth surfaces, they offer perfect protection. For example, they protect against mechanical hazards and are resistant to abrasion, cutting and tearing.
Trend 3: Apron hunters watch out!
In the catering trade, the apron is the frontline advertising ambassador. In various designs, materials and colours, it is used all day long as an advertising ambassador for the business – both in front of and behind the scenes. In the form of a bib, waiter's, bistro or chef's apron and finished with embroidery, the order reaches the guest while the brand image remains anchored.
Trend 4: Dungarees as the perfect storage space
While becoming a trend in the fashion scene time and again, dungarees fulfil a supporting role in the labour market: they are robust, hard-wearing and adaptable. Their greatest benefit, however, lies in their large capacity. Because this workwear makes pens, tools, folding ruler and the mobile phone ready to hand at any time thanks to numerous pockets and compartments, while knee pads and elastic straps ensure appropriate comfort. A real all-rounder.
Trend 5: Good protection is also a matter of the head
It is more than just headgear: in case of doubt, a safety helmet can save lives. At the same time, it is also a real all-rounder. With rain gutters, slots for hearing protectors, ventilation holes, comfortable and tight-fitting straps and brackets as well as absorbent sweatbands, it offers optimal protection and comfort even in demanding situations. By the way, the helmets are available in different size settings and can withstand even extreme temperatures. So it's no wonder that the safety helmet also made it into the top 5 of our most popular workwear products.