Marketing Festival – reSTART of marketing industry!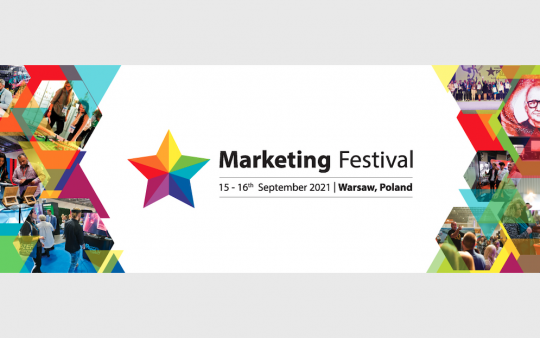 Marketing Festival is the biggest event in the second half of the year in Poland. It is an unique combination of exhibition stands, trainings, presentations and conferences. The exhibitors are companies from the wide advertising market: suppliers of promotional products, printers and events industry.
The event brings together the different forms of marketing, printing, promotional products & event. The festival is dedicated to the representatives of advertising agencies and printers. The Festival includes only selected groups of visitors excluding persons not connected with the advertising business. The organizer lays emphases on the quality of contacts rather than their quantity and reserves the right to refuse admission to the fair to people unrelated with the advertising industry.
During the fair, two significant industry contests will take place: Super Gift – contest for the best promotional products, and the next edition of POS STARS – contest for the best displays with an exhibition of submitted realizations.
In 2020, Marketing Festival was one of the few exhibition events at all in Poland. The fair, in compliance with all safety standards, was received very positively by the industry. 130 exhibitors and 1,300 visitors included advertising agencies, users, marketing specialists, printing professionals. Based on the experience from last year's edition (OOH magazine as the only organizer on the market organized an advertising fair during a pandemic), the event will be held taking the hygiene and safety regulations into account. There will be hand disinfection gates, masks for visitors, 3-meter alleys, a large space and permanent ventilation of the facility.
Organizer of the Marketing Festival is the publishing company, OOH magazine, which issues diverse publications on promotional products and marketing industry.
Marketing Festival
EXPO XXI, Warsaw, POLAND
September 15-16, 2021
Free registration: https://festiwalmarketingu.pl/formularz/