STILOLINEA FOR A SUSTAINABLE FUTURE!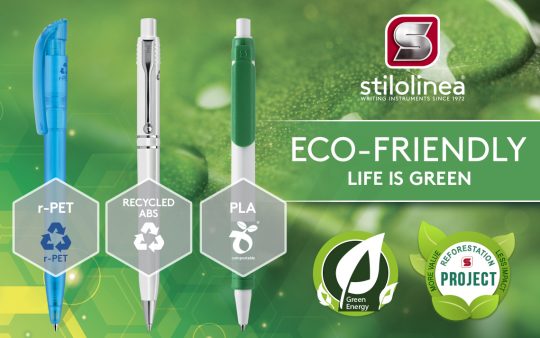 Since 2000 Stilolinea, a leader factory in promotional pens, aware of the climate 's worsening on our planet, developed a green product making use of an Italian laboratory. In 2005 PSI event we presented to the world the VEGETAL PEN, made in PLA, a biocompostable material made from plants. This was just the beginning to conceive sustainable pens and this is our aim today and for the future.
To strengthen this concept we have created a collaboration with TREEDOM to plant trees in AFRICA, involving our customers too. Today, in our collection, further to have a huge number of pens made in ABS, we produce more and more products made in RECYCLED ABS and r-PET materials, without forgetting that we are the ONLY COMPANY to produce the ANTIBACTERIAL PEN, "iPROTECT®", with ZINC IONS, which repels BACTERIA from its surface. We firmly want to go in this direction and we engage to pursue this important project.
Certified by DNV Quality & Environment
www.stilolinea.com
Text & Picture: Stilolinea