New Website with Interactive Features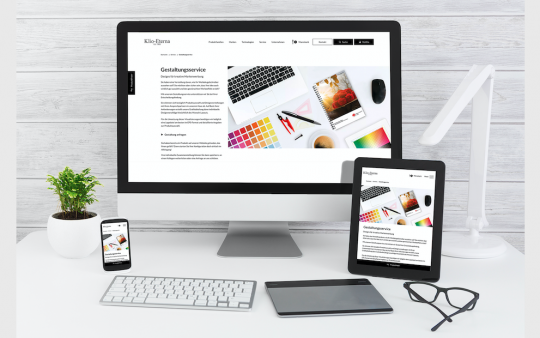 The new website of the writing instrument specialists Klio-Eterna has been online since the very beginning of June. Their new internet presentation combines very simple operation with a fresh design, that skilfully puts the high-quality Klio-Eterna writing instruments in the limelight. By means of the prominent product entry point, users are automatically led through Klio-Eterna's product world. With the help of different entry options, every type of user can get to the section they want depending on their current knowledge of the products available. This way, when people go to the website on the new start page, they will have a complete overview of all the products. There is also a direct way for users who are already familiar with the products to get to the product family or the 6 brands that they are looking for.
In the product finder, users can pre-set the filter to search for their product using different parameters such as colour, surface, material or budget. In the content area of the website, there is also background information on refills, personalisation options, free design service and much more. There are also important certificates and explanations available for download in the service section of the new website.
"In addition to functionality and structure, it was especially important for us that the new website has a fresh, appealing, and at the same time, consistent look. Through the successful responsive design, the new website and configurator also have been optimised for its use on mobile devices and screen sizes", explains Jessica Richter, Marketing Manager at Klio-Eterna.
Another fundamental building block of the Klio website is the secure MyKlio section, which has interesting features available, especially for distributors. In the download portal, registered users have a lot of documents available, such as high and low resolution product images, advertising product flyers and price lists in PDF format. Moreover, the configurations created, order history and all of the important information are saved so that the information required can be accessed at a later point in time.
"We want to offer our customers real added value and to support them with their work in the best possible way. For this reason, we placed our main focus on the website having a clearly-arranged and transparent page structure, which offers users interaction opportunities for each product and focuses on the user experience. With our new product configurator, we have developed a high performing and user-friendly online tool that meets all of the market's requirements and brings users to their desired object quickly and in a straight forward manner. In addition to documents that support our advisory services, our new website offers users an optimal combination of features for giving customers holistic and efficient advice", adds Sales Director Ralf Richter. www.klio.com