Let's go circular!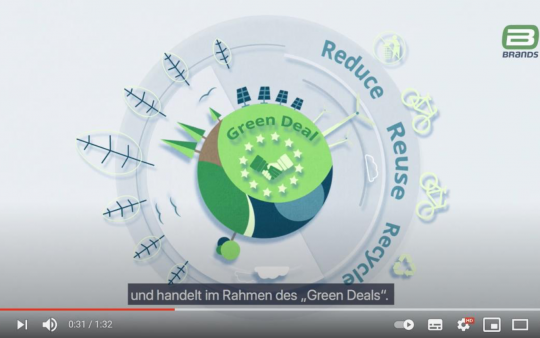 Brands Fashion, the renowned European supplier for sustainable workwear is committed to the area of the circular economy and is developing sustainable and recyclable textiles. Brands Fashion is generating circular solution approaches for the technical cycle so that clothing not only remains theoretically recyclable while retaining its value. This way fewer textiles end up in the rubbish bin.
The company based in Northern Germany can now offer its customers products that have the gold level of "Cradle to CradleTM" certification. In addition to ensuring high social standards, the company states that the chemicals used along the production chain are safe for humans and the environment. These textiles can be composted without hesitation and returned to the cycle of raw materials. To achieve the highest recycling quality, the specialist for sustainable workwear and merchandise, has expanded its portfolio with projects in the area of technical cycle. The goal is to develop new products from worn-out clothes.
In a video, Brands Fashion clearly explains how the company closes the cycle of raw materials through its in-depth knowledge on the product, digital logistics structures and IT support as well as specific know-how and competent networks. It is not an easy task but it does not require a lot of effort on the part of interested business partners thanks to the company's multifaceted expertise, which customers can profit from in its full-service offer.
Managing Director Mathias Diestelmann is convinced of the endeavour stating, "The common desire for innovation not only enables us to protect the planet together with our customers, it also is a competitive advantage for everyone involved in the medium term".
About Brands Fashion
Since 2002 the textile pioneer Brands Fashion has developed high-quality and stylish work clothes for well-known businesses in Europe and the USA. The company's portfolio includes a large array of private label, merchandising and promotional products. The company always focuses on the individual requirements of its customers. Brands Fashion offers its customers a one-stop solution: from coming up with creative designs and market-oriented product development to global logistics and web shop solutions. In 2019 Brands Fashion founded the GoJungo GmbH with the Danish company Scan-Thor. As an innovative platform the start-up assumes the job of ensuring the successful sale of textile products on online market places for brands which have complex and time-consuming processes. More information is available at: www.brands-fashion.com