Successful completion of training and new employment contract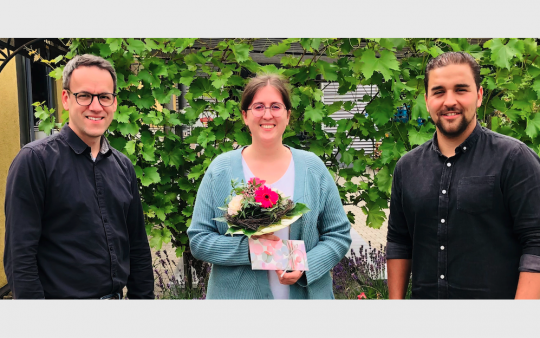 Sweetware, the specialist for delicious edible promotional gifts based in Vogtsburg, welcomes a new member of its team: after successfully completing her vocational training as an industrial sales assistant, Clarisse Hiller has now taken on a permanent position. "Clarisse is a stroke of luck for us", says Sweetware managing director Sandor Kiss. Starting now, Hiller will be working in the commercial logistics and sales segments. During the last months of her training, she became very familiar with the job and already assumed responsibility in the respective areas. Hiller grew up bilingually and will therefore also support the department for France due to her very good knowledge of French.
Picture: Sweetware managing director Sandor Kiss, Clarisse Hiller and training director Lars Göppert (from left to right).